Thank you for over 9.1 million views of the SuccuWiki!
The Mammoth Book of Paranormal Romance
From SuccuWiki - The Wiki of the Succubi

For other uses of the word Succubus, see Succubus (disambiguation).

The Mammoth Book of Paranormal Romance is an anthology of 24 short stories edited by Trisha Telep.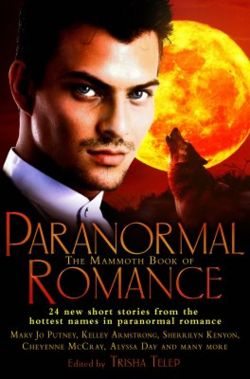 Book Details
Title: The Mammoth Book of Paranormal Romance
Author: Trisha Telep (Editor)
Format: Mass Market Paperback
Pages: 512
Publisher: Running Press
Language: English
ISBN-10: 0762436514
ISBN-13: 978-0762436514
Release Date: March 9, 2009
Book Synopsis
24 new short stories from the hottest names
Fall in love with someone out of this world.
If love transcends all boundaries then paranormal romance is its logical conclusion. From the biggest names around, here are 24 tales to take you to another time and place.
Let Alyssa Day, Sherrilyn Kenyon, Cheyenne McCray, Jeaniene Frost, Ilona Andrews, Kelley Armstrong, Maria V. Snyder, Carrie Vaughn, Allyson James Marland and others show you powers beyond your wildest imaginings.
Within these pages mythical beasts, magical creatures of all shapes and sizes, heart-stoppingly handsome ghosts, angels, and mortals with extra-sensitive sensory perception play out the themes of extraordinary desires.
Stories Within this anthology
THE TEMPTATION OF ROBIN GREEN by Carrie Vaughn
SUCCUBUS SEDUCTION by Cheyenne McCray
PARANORMAL ROMANCE BLUES by Kelley Armstrong
JOHN DOE by Anna Windsor
TAKING HOLD by Anya Bast
HOW TO DATE A SUPERHERO by jean Johnson
DANIEL by CT Adams and Cathy Clamp
LIGHT THROUGH FOG by Holly Lisle
THE TUESDAY ENCHANTRESS by Mary Jo Putney
TRINITY BLUE by Eve Silver
GRACE OF SMALL MAGICS by Ilona Andrews
ONCE A DEMON by Dina James
NIGHT VISION by Maria V. Snyder
PELE'S TEARS by Catherine Mulvaney
PACK by Jeaniene Frost
WHEN GARGOYLES FLY by Lori Devoti
THE LIGHTHOUSE KEEPER AND HIS WIFE by Sara Mackenzie
BLOOD SONG by Lynda Hilburn
THE PRINCESS AND THE PEAS by Alyssa Day
AT SECOND BITE by Michelle Rowen
BLUE CRUSH by Rachel Caine
THE WAGER by Sherrilyn Kenyon
IN SHEEP'S CLOTHING by Meljean Brook
THE DREAM CATCHER by Allyson James
Detail on short story: Succubus Seduction
The Queen of the Unseelie Court has commanded the succubus Lilin to take and bring her the soul of Archer, a handsome succesful architect. Three times she attempts the necessary seduction and fails, losing her immortality as a penalty of the Queens wrath. Stripped of her powers and ultimately her memory she goes to Archer because she has no place else to go. He becomes her protector and they fall in love.
At first this story struck me as predictable until we discover a secret about Archer's true nature. Even then the Lilin/Archer falling into love storyline seemed unremarkable until a final twist nicely shows how remarkable indeed their relationship is and the price they are willing to pay for their love.
Book Review
There were no book reviews available at the time of this article's addition to the SuccuWiki
External Link