Thank you for over 5.1 million views of the SuccuWiki!
The Hunter (Legend Chronicles 1)
From SuccuWiki - The Wiki of the Succubi

For other uses of the word Succubus, see Succubus (disambiguation).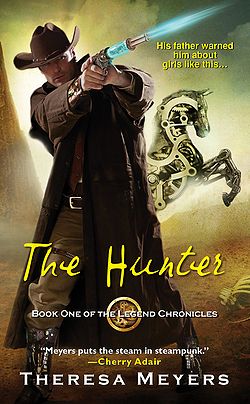 The Hunter is a novel written by Theresa Meyers. It is the first novel in the Legend Chronicles by this author. The book is a mix of steampunk and western themes that follows the adventures of Colt Jackson as he tries to deal with the influx of dark beings into his world. In this story, he calls a succubus named Lily who complicates his life.
Book Details
Title: The Hunter
Author: Theresa Meyers
Format: Paperback and Kindle Editions
Pages: 352
Publisher: Zebra
Language: English
ASIN: B005CRY85E
ISBN-10: 1420121243
ISBN-13: 978-1420121247
Release Date: November 1, 2011
Book Synopsis
Colt Jackson has gotten his name on many a wanted poster with success in the family business: hunting supernaturals across the frontier. Lately, though, there's a sulphur stink in the wind and the Darkin population is exploding. A rift in the worlds is appearing. To close it, Colt will have to do the unthinkable and work with a demon to pass arcane boundaries no human alone can cross. Except when he summons his demon, he doesn't get some horned monstrosity: he gets a curvy redheaded succubus named Lilly, who's willing to make a bargain to become human again. He also gets Lilly's secret expertise on the machinations on the dark side of the rift. And her charm and cleverness help to get them out of what his silver-loaded pistol and mechanical horse can't. Of course, when all hell breaks loose, he might have to sacrifice his soul. But what's adventure without a little risk?
Book Review
At the time of this article's addition to the SuccuWiki, there were no reviews available as this novel had not been released. Tera has this work on her reading list and will review it as soon as possible.
External Links