Thank you for over 9.3 million views of the SuccuWiki!
The Dreaming (Novel)
From SuccuWiki - The Wiki of the Succubi

For other uses of the word Succubus, see Succubus (disambiguation).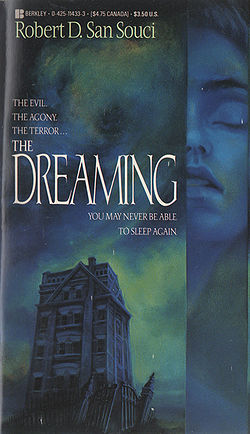 The Dreaming is a novel written by Robert S. Souci.
Book Details
Title: The Dreaming
Author: Robert S. Souci
Format: Paperback
Pages: ???
Publisher: Berkley
Language: English
ISBN-10: 0425114333
ISBN-13: 978-0425114339
Release Date: February 1, 1989
Book Synopsis
Warning from a Ouija board...
Lilith.
To a Vietnam veteran, she is unfinished business from half a world away, invading his dreams with visions of death.
Empusa.
To a six-year old girl, she is a scary presence who waits outside her bedroom at night.
Sleeping Now.
She is known by many names. Ekimmu. Succubus. Vampyr. She sleeps gathering her power, waiting for the time when she can enter he world and satisfy her bloodlust.
Waking Soon.
Seventeen year old Tony Kovacs has what she needs to awaken. He also has the means to stop her.
Danger.
He can slam the door between worlds, or swing it open - unleashing the hideous terror of ...
The Dreaming.
Book Review
At the time of this article's entry in the SuccuWiki, no review was available. However, Tera has ordered a copy and will review it soon.
External Links