Thank you for over 5.1 million views of the SuccuWiki!
The Demon Shaft
From SuccuWiki - The Wiki of the Succubi

For other uses of the word Succubus, see Succubus (disambiguation).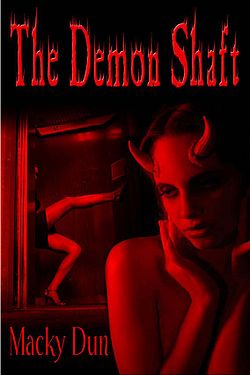 The Demon Shaft is an eBook written by Mackey Dun. One of the main characters in the story is a Succubus and attempts to make the other character of the story, named Sandee, submit to her. It should be noted that this story contains themes of graphic language, female/female sex, dominant/submissive themes and supernatural transgender sex.
Overview
Title: The Demon Shaft
Author: Mackey Dun
Published By: Excessica Books
Length: 3627 words
Format: EBook
ISBN-13: 978-1609823269
Original Publishing Date: June 11, 2010
Plot Summary
She has the confidence, the walk, the desire, and all the curves to snare the job. The stunning ball of fire has everything going for her today. All Sandee has to do is step into the elevator, get to the 27th floor, and that job is as good as hers. Unfortunately for Sandee, the elevator holds a few scorching surprises that might derail her interview, and her carefully laid out life, forever.
Book Excerpt
An excerpt from the first chapter of this work can be found here.
Book Review
By TeraS
I was intrigued by the book summary and decided to read this story. For the most part it's a hot story about a Succubus that captures her prey in an elevator. The descriptions of what the "victim" in the story feels are quite interesting and, occasionally, very hot. The transgender aspects of the story come into play about halfway through the story, and are not over the top in nature, but are quite specific and to the point in their effects on Sandee.
But here is the one part of the story that does bother me to an extent. Over and over again Sandee is told to submit to the Succubus, and in doing so, she would become the plaything of the Succubus. But Sandee never actually submits to the Succubus in the story, by saying so. Nonetheless, the Succubus continues to act as if Sandee has submitted to being the Succubus' pet. And that bothered me from the point where she was told to submit to the end of the story.
I have the oddest feeling that there is part of this story missing for that reason, which is a shame I think. The act of submission isn't, at least to me, actual submission and, considering we are talking about a Succubus, I think that she would make quite sure that there was no way for Sandee to escape her. The way the story is written, it's like she has an escape clause. A Succubus would not allow Sandee to have such a thing.
Just one plot hole, but to me that makes a difference.
Rating: 3 out of 5 pitchforks
External Links