December 1st, 2015 marks the SuccuWiki's Eighth Anniversary!
The Dangerous Book for Demon Slayers
From SuccuWiki - The Wiki of the Succubi

For other uses of the word Succubus, see Succubus (disambiguation).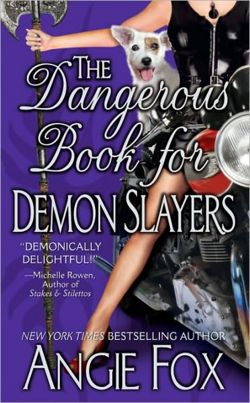 The Dangerous Book for Demon Slayers is a novel written by Angie Fox. It is part of the Lizzie Brown Series. In this novel is a group of Succubi based in Las Vegas. Their leader is named Serena.
Book Details
Title: The Dangerous Book for Demon Slayers
Author: Angie Fox
Format: Paperback and eBook Formats
Length: 308 Pages
Publisher: Love Spell
Language: English
ISBN-10: 0505527707
ISBN-13: 978-0505527707
ISBN: 9781939661050 (Reissue)
Release Date: April 28, 2009
Reissue Date: March 22, 2013
Other novels by Angie Fox on SuccuWiki
Book Synopsis
Accidental demon slayer Lizzie Brown and her grandmother's coven of biker witches have rolled into Sin City to take out a super-sexy succubus who has her eye on world domination--and worse, Lizzie's man, in this second entry in Fox's red-hot series.
Demon slaying powers should come with an instruction book ... Seriously. Why does a new hair dryer have a twelve-page how-to manual, but when it comes to ancient demon-fighting hocus-pocus, my biker witch granny gives me just half a dozen switch stars and a rah-rah speech? Oh, and a talking terrier, but that's another story. It's not like my job as a preschool teacher prepared me for this kind of thing.
So I've decided to write my own manual, The Dangerous Book for Demon Slayers, because no one tells me anything. Dimitri, my "protector," may be one stud of a shape-shifting griffin, but he always thinks he can handle everything by himself. Only he's no match for the soul-stealing succubi taking over Las Vegas. If I can't figure out how to save him - and Sin City - there'll be hell to pay.
Book Review
The following review is taken from the Amazon.com link in the External Links below:
5 out of 5 stars
Dangerous, demons, and a dog
Reviewed On:"April 24, 2009
Reviewed By: she reads

I was a big fan of the first book, now with this second installment we check in as Lizzie fights her first big battle after choosing to be a demon slayer (well- choosing to keep her powers, that is). All the supporting cast is here and humor pops up occasionally, though a bit less than in 1st book.
She's in Vegas, with a permit (not license) for being a demon slayer... and she needs all the help she can get since succubi are showing up in huge numbers - and her boyfriend Dimitri can not take them on... eeps!
I loved what Angie Fox did with the direction of this novel. A little darker, a little more solo path for our heroine, and a little more problems and pain... but Lizzie needed that. She grew, learned, and accepted so much and I was 100% satisfied by the ending.
There is, like the first book that feeling that while maybe not perfect, things are going to work out for the good guy (Lizzie the slayer) and that helped me get through the more "oh my gosh! it's all going to hell - literally" moments. Every page had me glued, and Angie Fox is a must read author for me now. I hope we have many more stories of Lizzie & crew in future...
External Links