Thank you for over 9.3 million views of the SuccuWiki!
The Crystal Mountain
From SuccuWiki - The Wiki of the Succubi

For other uses of the word Succubus, see Succubus (disambiguation).

The Crystal Mountain is a novel written by Thomas M. Reid and is part of the Empyrean Odyssey book series. In this series a succubus by the name of Aliisza appears.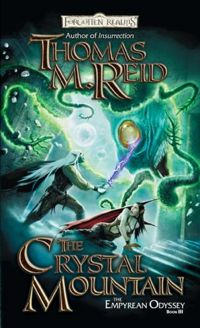 Book Details
Format: Mass Market Paperback
Pages: 320
Publisher: Wizards of the Coast
Language: English
ISBN-10: 0786952350
ISBN-13: 978-0786952359
Release Date: July 7, 2009
Other novels by Thomas M. Reid on SuccuWiki
Book Synopsis
What could bring heaven to the depths of hell?
Aliisza betrayed her lover, her mentor, and her son in order to try to stop the dark plot to kill the goddess Mystra. She failed. Now the goddess is dead, magic is malfunctioning, and Aliisza and her companions are trapped. Her only hope of escape lies is in convincing the angels and demons she just betrayed to trust her and work together--before they kill each other.
Book Review
The following review is from the Amazon.com link in the External Links below:'
5 out of 5 stars
The Crystal Mountain by Thomas M. Reid
Reviewed On: July 23, 2009
Reviewed By: Travis M. Eisenbrandt

The Crystal Mountain by Thomas M. Reid- This is the last book in The Empyrean Odyssey trilogy, preceded by The Fractured Sky, being the second book, and The Gossamer Plains, the first. The story picks right up where The Fractured Sky left off and we find Tauran, Kael, Aliisza, Zasian Menz, Myshik, Micus, and Kaanyr Vhok all effected by the death of Mystra.
I'll just simply reword what the description says on the back of the book. Kaanyr Vhok wants revenge on the angels that held him captive, and he is finally in the position to be able to. Aliisza is torn between her son, the angel that freed her, and her lover in which to swear her alliance.
Negatives: 1) Eirwyn. While she wasn't a bad character, her side story wasn't really interesting. Don't get me wrong, it did show the confusion of the High Council and did have a purpose, but it just seemed to drag on.
Positives: 1) Characters. The way Aliisza changed is remarkable. I've liked her before but now she really blew me away by being so changed and understanding of her lot in life. She grew greatly as a character in this one, more so than the previous books. Kael also grew greatly within this book. He seemed to go from a main/ secondary character into someone that I want to read more about. Tauran was written well, and we can really feel sorry for him throughout the book. Vhok and his single mindedness 2) Return of one of my favorite characters. I can't give anything away, so I'll make this short. Seeing him return was just wonderful, and he still had the same vanity and humor as before. 3) Micus/ Myshik. What happens to them I just can't be more happy about. Once again, I can't give to much away, but it felt right and just that this happened. 4) The Spellplague. This is the first book that really showed what happened during it. I've read a couple before this, but it didn't really go into much detail. Now, however, seeing how destructive it is and how it corrupts a few characters really made me shiver. 5) The ending. It really wrapped up this trilogy very well. I'm happy with everything happening and how everything ended up. It just felt right.
Overall: 5/5 I couldn't really find any major flaws in the story, and most of all the characters grew a lot and in a good way.
External Links