Thank you for over 12.9 million views of the SuccuWiki!
Tales of Stephanie: The Collection
From SuccuWiki - The Wiki of the Succubi

For other uses of the word Succubus, see Succubus (disambiguation).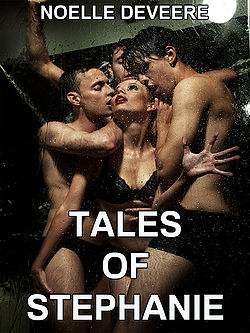 Tales of Stephanie: The Collection is an anthology of stories written by Noelle DeVeere. In this work, the main character Stephanie is a being with powers similar to that of a Succubus. The work contains all of the previously released stories by this author in this series.
Details
Title: Tales of Stephanie: The Collection
Author: Noelle DeVeere
Format: eBook
Publisher: Smashwords
Language: English
Length 38 Pages
Release Date: January 31, 2012
Other Works in this series on SuccuWiki
Synopsis
This collection contains four short stories about Stephanie, a being with powers similar to a Succubus in nature.
Breakdown Gangbang - A mishap on a lonely desert highway leaves Stephanie high and dry. But when three hot college guys stop to rescue her from her predicament, she gets more than she bargained for!
Breaking and Entering - A man has broken into Stephanie's new house! What is a girl to do? Why, tie him up and give him the time of his life, of course!
The Office Daddy - Ever since she turned eighteen, slutty little Katie has been the bane of Paul Mattson's existence. Now that he's divorced her mother, his dear sweet stepdaughter shows up at his office to get what's hers. But is she who she claims to be?
Yardworked - When a boring suburban drive brings a hunky young homeowner into her sights, it's time for Stephanie to go on the hunt and bag herself a man!
Book Review
At the time of this article's addition to the SuccuWiki, there was no review available.
External Links