Thank you for over 12.9 million views of the SuccuWiki!
Succubus in New York
From SuccuWiki - The Wiki of the Succubi

For other uses of the word Succubus, see Succubus (disambiguation).

Succubus in New York is a novel written by Nina Harper. It is part of the Lilith "Lily" Ad-Hzar series. It is the UK release of the novel Succubus takes Manhattan.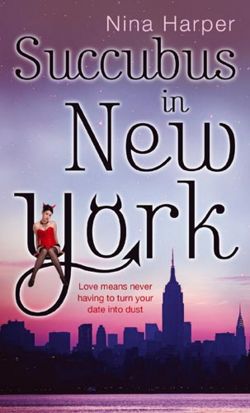 Book Details
Title: Succubus in New York
Author: Nina Harper
Category: Fiction, Fantasy, Romance
Format: Paperback
Pages: 432
Publisher: Piatkus Books
ISBN-10: 0749929235
ISBN-13: 978-0749929237
Release Date: May 7, 2009 - This book has not been released
Other novels by Nina Harper on SuccuWiki
Book Synopsis
When your job is dispatching creeps to the hereafter, a good man is hard to find...
Lily loves working for Satan. Being one of Her Chosen means a gig filled with fashion, food, and the best supernatural gal pals a succubus could imagine. Still, being dumped by the first mortal she'd fallen in love with in centuries has put Lily in a serious funk.
If things get any hotter, Lily might get burned...
Nathan Coleman bolted because he couldn't handle Lily's inner demon, but blond, buff, blue-eyed Marten is a delicious distraction, and he's one of her own kind. Only Lily's not sure she can trust him–especially when her best friend's demon boyfriend is kidnapped, the ranks of the Hierarchy of Hell are gunning for her downfall, and Lily's dashing P.I. beau is back on the scene, rekindling flames. Two men, too much temptation, and assassins closing in–if Lily survives, who claims her heart?
Book Review
At the time of this article's addition, no review was available. As soon as one is made, this entry will be updated.
External Links