Thank you for over 9.3 million views of the SuccuWiki!
Succubus Servant (Chronicles of Blood)
From SuccuWiki - The Wiki of the Succubi
For other uses of the word Succubus, see Succubus (disambiguation).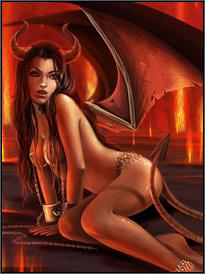 Chronicles of Blood is a game on Facebook. The game setting itself is described as being you are a newly-turned vampire who awakens in Club noir, a local goth club that is also a secret base for vampires. After you awaken as a vampire, you can go to different locations and fight monsters.
The setting is described as modern horror and contains creatures from horror movies and other sources such as the X-files and Resident Evil, Aliens, and World of Warcraft. In adition there are references to magical creatures, the gothic and steampunk movements, graphic novels and fantasy.
As part of this game, there are creatures called Servants. One of these is called a Succubus Servant.
Description
Basic Statistics
Type: Servant
Bloodlust used: 2
Interception chance: 15%
Passive attack chance: 25%
Damage type: Shadow
Benefits
The Succubus Servant increases the proc chance of your nightfall by 3%.
Procs
The Succubus Servant has the following procs associated with it:
Nightward: The nightward proc is a defensive buff that always reduces the amount of shadow damage inflicted by an opponent. Nightward is a level 4 proc for succubus servant.
Battle stats
The Succubus Servant uses 2 units of bloodlust per attack.
The Succubus Servant has a 15% chance of intercepting an opponent's attack on you.
The Succubus Servant has a 25% chance of making a passive attack on an attacker during PvP.
Damages
At level 51 the Succubus Servant servant can inflict between 25 and 29 shadow damage on an opponent.
For more information about the amount of damage the Succubus Servant can inflict at different levels, see the Servant damage comparisons table.
Sources
The Succubus Servant servant can be acquired by accumulating 20 Words of command and turning them in to Vilevere in the Infernal planes.
External Links