Succubus On A Mission (eBook)
Jump to navigation
Jump to search
Succubus On A Mission

Succubus On A Mission
Original eBook Cover, written by L.L. Frost
Author(s)
L.L. Frost
Series
Succubus On A Mission
Publisher
Small Bites
Publication date
September 5, 2018
Media type
eBook
Length
284 Pages
ASIN
B07GWWMHY4
Preceded by
The Revelation
Followed by
Succubus Hunted
Sidelined
For other uses of the word Succubus, see Succubus (disambiguation).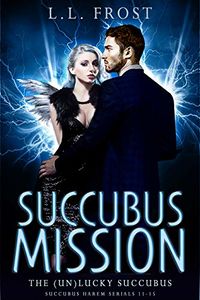 Succubus On A Mission is an eBook written by L.L. Frost. It is a collection of the works in the Succubus On A Mission series by this author. In this work the character Adeline Pond is a Succubus.
Overview
Title: Succubus On A Mission
Author: L.L. Frost
Published By: Small Bites
Length: 284 Pages
Format: eBook
ASIN: B07GWWMHY4
Publishing Date: September 5, 2018
Other Works in this Series on SuccuWiki
Succubus Bargain
Succubus Studies
Succubus On A Mission
Succubus Hunted
Succubus Dreams
Succubus Trials
Succubus Undone
Succubus Reborn
Succubus Ascended
Plot Summary
In a world where demons live in hiding among humans, Adie Pond is finally getting her life on track.
Open her bakery? Check. Hire employees? Check.
Find a balance with her sexy demon roommates? Double check.
But the demon world doesn't seem to want Adie to live an easy life. When she's yanked into a meeting with the Librarian and given an assignment she can't refuse, Adie will have to put her dreams on hold once more, this time to complete a mysterious "Quest" she has little interest in. Added to that is a new demon of destruction in town who rubs Adie's instincts the wrong way. When their paths cross, all hell breaks loose. Literally. Join Adie on her (mis)adventures toward achieving a quasi-normal life among humans.
Book Review
At the time of this article's entry in the SuccuWiki, no review was available. Tera has this work on her reading list and will review it shortly.
External Links