Thank you for over 12.9 million views of the SuccuWiki!
Succubus In Waiting
From SuccuWiki - The Wiki of the Succubi

For other uses of the word Succubus, see Succubus (disambiguation).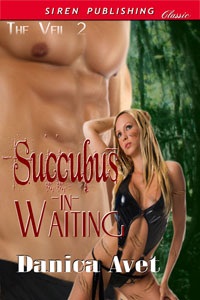 Succubus In Waiting is an eBook written by Danica Avet. It is the second work in The Veil series by this author, the first being Ruby: Uncut and on the Loose. The author describes this universe as being a paranormal community that exists parallel to the human world. There are two opposing groups within it: the Veilerians, who live in secrecy, living next to humans, but not a part of their world. The other is the Eturi, or Eturians, who were once part of the Veil, but want to take over and dominate the human world.
In this story, one of the main characters, Piper Foxgrove, is a succubus-weretiger Halfling living in a pleasure house run by Succubi.
Overview
Title: Succubus In Waiting
Author: Danica Avet
Cover Art: Jinger Heaston
Published By: Siren-Bookstrand, Inc.
Length: 105,000 words
Format: eBook
ISBN-13: ?
Original Publishing Date: March 8, 2011
Plot Summary
It isn't easy holding onto your virginity in a succubus Pleasure House, but Piper Foxgrove has managed for decades. As a rare succubus-weretiger Halfling, Piper dreams of true love─to the consternation of her mother. Forced to work with a bad-tempered, good-looking werewolf looking for his nephew, Piper's determined to ignore his sexiness. Unfortunately, her succubus half decides he's the key to unlocking her powers while her recently awakened weretiger half thinks he's perfect mate material.
Connor Griffin's brother died because of "soul suckering" succubi, so he doesn't trust them. But Connor needs to find his nephew─the Veil can be dangerous─and worry makes him take drastic measures, like working with a succubus. But something about Piper calls to his wolf and has him doing things he never thought he'd do, like work with a succubus, lust after a succubus, and fall in love with a sassy, sexy succubus with tiger-striped hair.
Book Review
At the time of this article's entry in the SuccuWiki, no review was available. Tera has this work on her reading list and will review it shortly.
External Links