Thank you for over 5.1 million views of the SuccuWiki!
Succubus Devil (Meekal Kilara)
From SuccuWiki - The Wiki of the Succubi

For other uses of the word Succubus, see Succubus (disambiguation).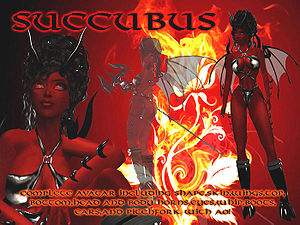 Meekal Kilara is a Second Life skins and avatar designer that has been producing avatars, skins and costumes for Second Life for some time. You can purchase various outfits, shoes, boots and other items to add to the avatar you use in the Second Life universe. This is a Succubus Devil that is available for purchase and use in the Second Life universe. They have also produced an Incubus Avatar as well.
Succubus Demon Avatar Set
Carefully Made Shape
Detailed Skin
Shiny Latex Top and Bottom
Both Hoofed and Booted Footwear
Coiled Whip
Undergarments
Head and Body Horns
Ears
Prim Eyes with Blackout and Red Glow Effects
Wicked Prim Sculpted Wings
Scripted and Sculpted Pitchfork with Animation Override for Standing and Walking. Also comes with the same Pitchfork without the A.O.
All Items are wearer-friendly and resizeable. Outfit does not include hair. Some items are modify, others are not due to scripting.
External Links