Thank you for over 5.1 million views of the SuccuWiki!
Succubus Beer (Sly Fox)
From SuccuWiki - The Wiki of the Succubi

For other uses of the word Succubus, or movies involving Succubi, see Succubus (disambiguation).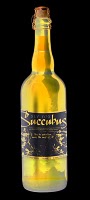 Sly Fox Brewery is an American brewery based in Phoenixville, Pennsylvania. In 2010, they produced a product called Succubus which was a sour version of the year-round Incubus Tripel beer they produce. It is not known if this particular beer will be returning in future seasons as it was a special production run.
Description
A subtly sour rendition of the company's Incubus Tripel which intrigues with unique flavors and leaves a long, lingering memory.
Promotion
The beer was produced as a celebration of Sly Fox's 15th anniversary on December 10th, 2010.
Statistics
Ale (Bottle Conditioned)
Alcohol: 10.3% alcohol by volume
Price: $25 US per bottle
External Links