Thank you for over 9.1 million views of the SuccuWiki!
Succubus (Webcomic)
From SuccuWiki - The Wiki of the Succubi

For other uses of the word Succubus, see Succubus (disambiguation).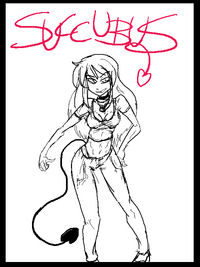 Succubus was a webcomic series created by the author and artist Hizke on the website DrunkDuck.com. The first comic appeared on March 4th, 2009 and was updated at irregular intervals until May 26th, 2009 when the series came to a premature end. The series was to focus on a Succubus named Mint after she was summoned to Earth. But the summoning went a bit wrong and other demons and similar beings were also allowed to pass through the portal that Mint arrived through. The style of the artwork was line drawings that were a bit rough, but did convey the story well. The artist generally created several pages of the story and then posted them at the same time before there was a gap of some time before another series of images appeared. There were a total of two chapters of the series posted for a grand total of nineteen pages for the series.
Series Information
Characters
Mint: The Succubus of the series.
Exie: A girl who opens the portal and summons Mint to Earth.
Hizke: Room mate of Exie.
External Links