Thank you for over 12.9 million views of the SuccuWiki!
Succubus (The Comic)
From SuccuWiki - The Wiki of the Succubi

For other uses of the word Succubus, see Succubus (disambiguation).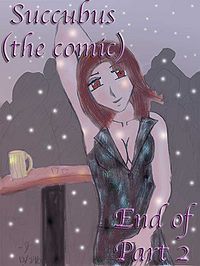 Succubus was a webcomic series created by the author and artist ThugmastaJ on the website Tripod.com. It was described as being about the story of a girl who becomes a succubus and the adjustments that must be made in her life. Her name is Anastasia and she is turned into a Succubus by an Incubus named Rune.
Her story was told over three main parts of the series, plus some additional one-off comics. The three main parts were called: Soul Steal, Hell Fire, and Dark Metamorphosis, each of these being between eighteen and forty-one comics in length. The series ended on January 31, 2005 with an incomplete resolution to the story.
Soon after the end of the series, the creator posted a note that this story was not complete and was in fact part of a larger story that was going to be told in a comic series called Dark Wing. Unfortunately any links to that comic from this comic's site are broken and nothing else can be said about what happened in that series.
Series Information
Characters
Anastasia: The Succubus of the story
Rune: The Incubus of the story
External Links