Thank you for over 9.3 million views of the SuccuWiki!
Succubus (Poxnora)
From SuccuWiki - The Wiki of the Succubi
For other uses of the word Succubus, see Succubus (disambiguation).

Poxnora also known as PoxNora: Battlefield of the Immortals is a multiplayer online game that combines a collectible card game with a turn-based strategy game in a fantasy setting. PoxNora was originally launched via Java Web Start through a browser and can be played on Microsoft Windows, Mac OS X, and Linux. The game is free to play with "Sample Battlegroups" and players can purchase additional game pieces, called "runes", and build their own strategies. The game currently includes more than 500 runes. As of January 16, 2009 the PoxNora game and its website are owned by and operated for Sony Online Entertainment LLC. In this game are creatures called Succubi.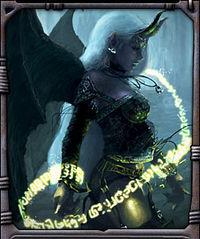 Succubus Rune
Base Data
Faction : Underdepth
Rune Type : Common
Size : 1 x 1
Race : Demon
Class : None
Range : 1 - 1
Attack : 14
Defense : 10
Speed : 8
Damage : 9
Hitpoints : 40
Base Nora Cost : 55
Preset Abilities
Attack - Physical: This unit makes a Physical attack at its Range. This is a basic attack. Nora : 0 CP : 0 Cooldown : 0
Charm 1: Adjacent enemy champions become Charmed until the end of the next turn (they get -10 ATK and may not target this champion with attacks or abilities). Nora : 2 CP : 6 Cooldown : 2
Demonbound: At the start of your turn, if you control no Demons, your shrine takes 5 magical damage. Nora : -8 CP : 24 Cooldown : 0
Flight: This champion is Flying (it ignores movement restrictions and movement penalties imposed by terrain). Nora : 10 CP : 30 Cooldown : 0
Resistance - Disease 1: Whenever this unit takes Disease damage, that damage is reduced by 20% (rounded up). Nora : 1 CP : 3 Cooldown : 0
Resistance - Fire 1: Whenever this unit takes Fire damage, that damage is reduced by 20% (rounded up). Nora : 2 CP : 6 Cooldown : 0
Optional Abilities
Charm 2: Enemy champions within 2 spaces become Charmed until the end of the next turn (they get -10 ATK and may not target this champion with attacks or abilities). Nora : 3 CP : 15 Cooldown : 2
Charm 3: Enemy champions within 3 spaces become Charmed until the end of the next turn (they get -10 ATK and may not target this champion with attacks or abilities). Nora : 4 CP : 27 Cooldown : 2
Curse 1: This champion makes its basic close-combat attack against target champion, at half DMG. Whenever this attack deals 1 or more damage, the target gets -5 ATK, -5 DEF, and -1 SPD until the end of the next turn. Nora : 5 CP : 15 Cooldown : 1
Curse 2: This unit makes an attack against a Champion. If the attack is successful, the attacked unit takes 50% damage, and gains -10 ATK, -10 DEF and -2 SPD until the end of the next turn. Nora : 5 CP : 30 Cooldown : 1
Life Siphon: Whenever this unit deals damage to a champion, it heals HP equal to half the damage dealt. Nora : 9 CP : 27 Cooldown : 0
Resistance - Disease 2: Whenever this unit takes Disease damage, that damage is reduced by 35% (rounded up). Nora : 1 CP : 6 Cooldown : 0
Resistance - Disease 3: Whenever this unit takes Disease damage, that damage is reduced by 50% (rounded up). Nora : 1 CP : 9 Cooldown : 0
Resistance - Fire 2: Whenever this unit takes Fire damage, that damage is reduced by 35% (rounded up). Nora : 1 CP : 9 Cooldown : 0
Resistance - Fire 3: Whenever this unit takes Fire damage, that damage is reduced by 50% (rounded up). Nora : 1 CP : 12 Cooldown : 0
External Links