On May 4, 2016, the 3,900th article was added to the SuccuWiki!
Succubus (Luna Online)
From SuccuWiki - The Wiki of the Succubi
Succubus
LUNA Online character



A LUNA Online Succubus

First appearance
LUNA Online
First game
LUNA Online
Fictional profile
A monster class in Luna Online
LUNA Online

Developer(s)
EYA Interactive
Publisher(s)

North America Gala-Net Inc.

Platform(s)

Microsoft Windows

Release date(s)
June 30th, 2009
Genre(s)
Fantasy MMORPG
Mode(s)
Massive Multiplayer
Media/Digital distribution
Download
For other uses of the word Succubus, see Succubus (disambiguation).

Succubi in the LUNA Online Massively Multiplayer Online Role-Playing game, developed by gPotato are a type of monster players battle against. There are two classes of Succubi in this game: Succubus, the more powerful kind, and Low Class Succubus, which is weaker but still quite strong when compared to other monsters in this game.
Succubus
Statistics
Value
Level
60
HP
2203
Gold
~ 711
Type
Melee
Location
Mont Blanc Port
Special
N/A
Equipment Drops
Monkey's Mithril Staff
Pure Glove
Rule Breaker
Hellfire Bringer
Item Drops
Large HP Potion
Moonstone
Silk Piece
Odd Powder
Monster Of The Integers - Lv 60
Low Class Succubus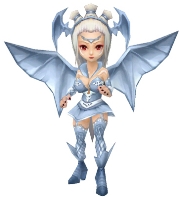 Statistics
Value
Level
37
HP
2978
Gold
948
Type
Melee
Location
Haunted Mines
Special
N/A
Equipment Drops
Fox's Battle Bow
Golden Robe
Wild Beast's Leather Long Boots
Crocodile's Battle Bow
Fox's Battle Bow
Abundance Leather Armor
Executed Magician's Robe Pattern
Ascetic's Boots Original Form
Item Drops
Enchant Scroll: Accessory 1-39
Emerald
Tear of the Spirit
Accesswell
External Links