Thank you for over 9.3 million views of the SuccuWiki!
Succubus (Heroes of Might and Magic V - Card)
From SuccuWiki - The Wiki of the Succubi

For other uses of the word Succubus, see Succubus (disambiguation).

In the collectable card game of Heroes of Might and Magic V, produced by DG Associates, there is a Succubus card.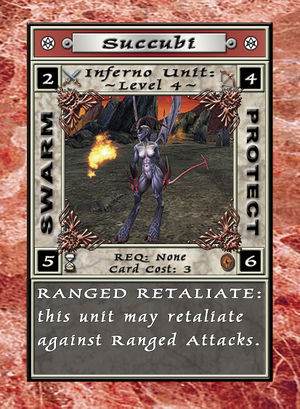 Card Information
Succubi, the only ranged attacker in the demon lord's arsenal. Succubi are included in almost every successful Infernal army. Their weakness of course is the Raven Knight units who can slash their attack power in half.
External Links