Thank you for over 9.1 million views of the SuccuWiki!
Succubus (Eternal Destiny)
From SuccuWiki - The Wiki of the Succubi

For other uses of the word Succubus, see Succubus (disambiguation).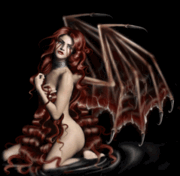 This is a character in a presistant module for the Neverwinter Nights RPG game. The module, Eternal Destiny is an hack and slash type game module for Neverwinter Nights, set in a fictional land where the player battles. The world is in constant flux with quests changing rapidly as the world evolves.
Statistics
Subrace Syntax: Succubus
No Racial Restrictions
Female Only
Spell Resistance: 10+ 1 / 2 Levels (MAX30)
ECL +6
Level 1
STR +2
DEX +2
INT +6
WIS +6
CHA +4
Damage Resistance: Acid 10/-, Cold 10/-, Fire 10/-
Immunity: Poison
Immunity: Electrical 50%
Regeneration: +1
AC +3
Saving Throws: Fortitude+5, Reflex+5, Will+5
Bonus Feats: Dodge, Mobility, Darkvision
Bonus Skills: Listen +10, Spot+10, Concentration+10
Spell-Like Abilities: Energy Drain 3 Uses/Day, Darkness 3 Use/Day, Gate 1 Use/Day, Mass Charm 1 Use/Day
Level 8
STR +2
DEX +2
INT +4
WIS +4
CHA +4
Bonus Feats: Improved Unarmed Strike, Expertise
Bonus Skills: Listen +10, Spot+10, Spellcraft+10
Level 15
Damage Resistance: Acid 20/-, Cold 20/-, Fire 20/-
Immunity: Level/Ability Drain
Saving Throws: Fortitude+5, Reflex+5, Will+5
Regeneration: +3
Bonus Feats: Lightning Reflexes, Iron Will, Circle Kick, Spring Attack
Bonus Skills: Listen +10, Spot+10, Heal+10
Level 20
Bonus Skills: Listen +10, Spot+10, Concentration+10
External Links