Thank you for over 9.3 million views of the SuccuWiki!
Succubus (Epic Trading Card Game)
From SuccuWiki - The Wiki of the Succubi

For other uses of the word Succubus, see Succubus (disambiguation).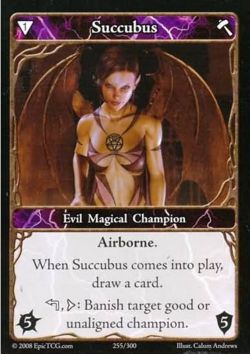 The Epic Trading Card Game is the creation of Robert Dougherty with development by Darwin Kastle.
According to the game's official website: In Epic there are no cumbersome "resource" or "land" cards. Instead, each turn every player has a single action. The most powerful cards cost an action to play, others are free. This simple system allows for incredibly fun and interactive play right out of the pack. Just shuffle any two packs together to make a 30 card deck and you're ready to play!
Card Stats
Origin: Magical
Alignment: Evil Magical Champion
Cost: 1 Action to play, can also be played in a Build Step.
Offensive Damage: 5
Defensive Strength: 5
Result of Attack: Banish target good or unaligned champion
External Links