Thank you for over 5.1 million views of the SuccuWiki!
Succubus (Dungeons and Dragons)
From SuccuWiki - The Wiki of the Succubi
For other uses of the word Succubus, see Succubus (disambiguation).

In the Dungeons & Dragons role-playing game, a succubus is a female demon.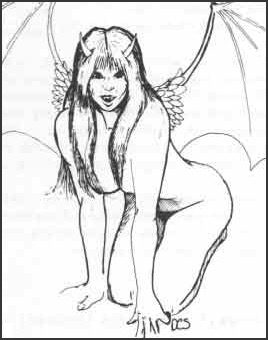 Creative origins
The succubus is based on the succubi from Western medieval legend.
Ecology
The objective of succubi is to tempt and ensnare men to lie with them for their own purposes.
Environment
Succubi are native to the Abyss.
Typical physical characteristics
A succubus in its natural state is in the shape and form of a beautiful human woman with demonic features, such as bat-like wings, tiny horns, and/ or a tail. However, the succubus may shape-shift into many forms. They often appear in the guise of a human woman sans demonic features. In the first edition of Dungeons and Dragons, a succubus shapechanged into male form was known as an incubus. However, in the third edition of D&D, the succubus is the female form of the incubus (ie the succubus and the incubus are the female and male manifestations of the same type of demon).
Alignment
Succubi are chaotic evil.
Society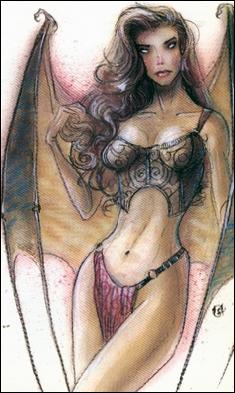 Succubi are tanar'ri demons, and they are quite numerous. Many are under the command of the Abyssal Lord Graz'zt, but most are ruled by their "Queen," Malcanthet. In Dungeons & Dragons the female child of a succubus and a human is traditionally called an "Alu-Demon" and the male child a "cambion" (though the latter term can be applied to any demon-mortal offspring). However, the offspring of an alu-demon or cambion, as a result of a union with a human, has no specific name but falls into the larger category of tiefling. Succubi are featured prominently in the Planescape games.
Other media
Fall-From-Grace is a succubus, a notable character from the Planescape: Torment computer role-playing game.
Footnotes
DeVarque, Aardy. Literary Sources of D&D. Retrieved on 2007-02-23.
Gygax, Gary. Monster Manual (TSR, 1977).
External links