Thank you for over 5.1 million views of the SuccuWiki!
Succubus (Black Widow)
From SuccuWiki - The Wiki of the Succubi

For other uses of the word Succubus, see Succubus (disambiguation).
This entry refers to an episode of the television series Poltergeist: The Legacy called Black Widow which has a succubus character in it named Karen Morgan, who is played by the actress Diane DiLascio.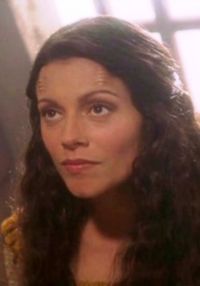 Poltergeist: The Legacy is a Canadian/American horror television series which ran from 1996 to 1999. The series tells the story of the members of a secret society known as the Legacy, and their efforts to protect humankind from occult dangers. Despite the Poltergeist name, there seems to be no real connection between the show and the original trilogy aside from it being intended as a spin-off from them. For further on the series, see the External Links below.
Episode Data
Episode Title: Black Widow
Episode Number: 24
Season Number: 2
First Aired: March 9, 1997
Writer: James Cappe
Director: Allan Eastman
Cast
| Actress or Actor | Role |
| --- | --- |
| Derek de Lint | Derek Rayne, Ph.D. |
| Martin Cummins | Nick Boyle |
| Robbi Chong | Alexandra Moreau |
| Helen Shaver | Rachel Corrigan, MD |
| Jordan Bayne | Julia Walker |
| Carla Boudreau | Isabella |
| Diane DiLascio | Karen Morgan |
| Russell Ferrier | Ted |
| Peter Flemming | Young Man |
| Russell Porter | Jack |
| Tanja Reichert | Sally |
| Ken Roberts | Priest |
| Dean Wray | Miner |
Plot
Rachel is called to identify the body of a patient and volunteers to help investigate his death and that of a number of other men. The murders lead the team to a succubus, a female demon that uses her victim's sorrow and love for another to suck the life force from them. The team's cause for concern grows deeper when Nick seems to be blindly falling for a waitress with no past.
Other Appearences
The succubus character Karen Morgan also appeared in the episode of this series titled She's Got the Devil in Her Heart.
External Links