Thank you for over 12.9 million views of the SuccuWiki!
Succubus (Black Moon Chronicles)
From SuccuWiki - The Wiki of the Succubi
For other uses of the word Succubus, see Succubus (disambiguation).
For more on the Black Moon Chronicles series, see Black Moon Chronicles elsewhere in the SuccuWiki.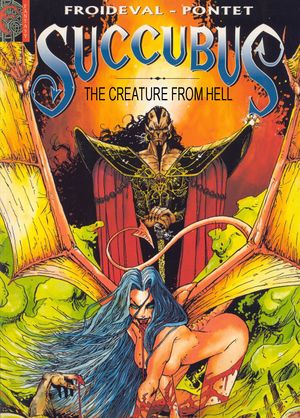 Overview
Title: Succubus, Tome 1: La Guerre des âmes
Author: François Marcela-Froideval and Cyril Pontet
Publisher: Zenda
Language: French
Number of Pages: 42
ISBN-10: 2723418731
ISBN-13: 978-2723418737
Release Date: March 20, 1996
Board Book Version
Number of Pages 47
Language: French
Publisher: Zenda
Release Date: February 1, 2000
Synopsis
This book is part of the Black Moon Chronicles series. Black Moon Chronicles is a series of graphic novels published by the French publishing giant Dargaud. Since its first episode, in the mid-'80s, the series has sold over a million copies worldwide and has become a classic in its genre. Black Moon Chronicles has actually nine episodes, but at least two others are on the way, plus a special episode focusing on Gorghor Bey, one of the series' central characters.
Born at the dawn of time, created by the lord of darkness, a Succubus is just a pawn in the struggle of good and evil. With her supreme beauty, this mistress of demonic forces, uses her beauty and sexuality as a consummate art in the corruption of others. The Succubus gives her powers to serve the forces of darkness and her own hungers ... If it succeeds in bringing souls to her master, then her status will increase and many more Succubi will be born in the pits of hell. If she should fail, then the great Lucifer will be replaced by another a demon prince on the throne of the kingdom of darkness ...
Cruel, Arrogant, Unique, Sensual, Beautiful, Erotic is the portrait of the lovely demoness…
External Links