Thank you for over 9.3 million views of the SuccuWiki!
Succubus (Alteil)
From SuccuWiki - The Wiki of the Succubi

For other uses of the word Succubus, see Succubus (disambiguation).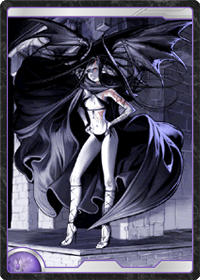 Alteil is a web based card dueling playing game in which players are in a world called Lavato which is in a state of war. The powerful knights of the Solar Kingdom are clashing with the deadly assassins of the Duchy of Crest, drawing in the Mercenaries of Heierrat on both sides. The Wizard Kingdom of Regus attempts to remain neutral, but they are not safe from the agents of darkness who weave the web of war. From this age of battle comes heroes from the four corners of the world. Players take up the mantle of an Iczer, a powerful summoner who can call these forces into battle and challenge the ultimate evil that is attempting to destroy all. In this setting there are Succubi.
Card Stats
Illustrator: Hirooka Masaki
Sphere: Lawtia
Level: 1
HP: 20
LP: 3
AT: 10
DF: 0
AGI: 2
RNG: 3
Type: Unit
Subtype: Unknown / -
Rarity: *
Skills
Soul: Life Suction -0- You get [SP - number of enemy units].
Open: Night Summoner -0- Change battletime to night.
Action: Nightmare -2- Conditional Use/Battletime Night] Both Iczers get SP=0.
Availability
Revival of the Dragon Emperors Expansion Set
External Links