Thank you for over 9.3 million views of the SuccuWiki!
Succubus (2Moons)
From SuccuWiki - The Wiki of the Succubi

For other uses of the word Succubus, see Succubus (disambiguation).

Dekaron is a free Asian MMORPG video game published by GameHi. A North American version, directed by David Perry, was released by Acclaim Games under the title '2Moons'. Closed Beta Testing ended March 7, 2007. The full game was released in Q4 of 2007. Dekaron is completely free, and is supported by an optional paying item mall.
In Dekaron, players control a single character, and move around a three-dimensional world, completing quests and defeating fiends (which may either be monsters, known in Dekaron as the Pitborn, or other players) to gain experience and become more powerful. In terms of player and player interaction, there is also a PVP option, and sometimes a PK (player killing) option outside safety zones. The ultimate goal in Dekaron is for a player guild to obtain Genoa Castle through a siege war.
One of the monsters in this game are Succubi.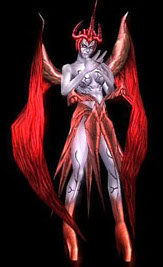 General Information
Total Health: 14,533
Experience: 1,232
Defense: 308 - 441
Drops: Succubus/Drops
Resistances
Physical Resistance: 0%
Lightning Resistance: 0%
Fire Resistance: 5%
Ice Resistance: 0%
Poison Resistance: 0%
Curse Resistance: 35%
Magic Resistance: 0%
Range Damage Resistance: 0%
Knockback Resistance: 0%
Status Resistance: 0%
Locations
Attacks
Attack 1
Damage : 267 - 402 (Poison Damage)
Ranged attack.
Inflicts: −8 HP/Sec, −1% Movement Speed (5 seconds, 50% chance)
External Links