Thank you for over 12.9 million views of the SuccuWiki!
Succubus: Book 1 - Seven Hells
From SuccuWiki - The Wiki of the Succubi

For other uses of the word Succubus, see Succubus (disambiguation).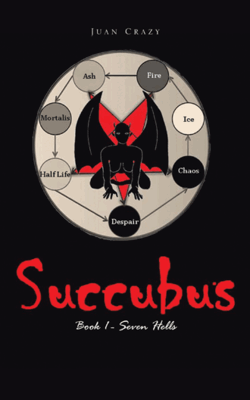 Succubus: Book 1 - Seven Hells is a novel written by Juan Crazy. This work tells the story of a named Etch and his battles with evil in his world. While this book is titled as the first in a series, there is no further information on followup tales from this author.
Overview
Title: Succubus: Book 1 - Seven Hells
Author: Juan Crazy
Published By: Trafford Publishing
Length: 700 Pages
Format: Paperback
ISBN-10: 1426967330
ISBN-13: 978-1426967337
Publishing Date: June 9, 2011
Plot Summary
Living in a small cabin, away from the great cities on the side of a mountain a torn and retired warrior lives a quite life with a family he had lived apart from for so very long. He appears content yet within him stirs an unquenchable passion. When messengers of the king he once served arrive he doesn't hesitate in agreeing to assist knowing full well that the path of this quest will lead him great distances away from home, hearth and the family he loves.
Etch's journey brings him new friends including a dryad driven by passions that are flamed by revenge and a clansman driven by love. Together they storm a castle, and battle a great creature whose beauty is rivalled only by the evil within her. Their objective, open the very gates of hell to return the greatest treasure of the kingdom.
Book Review
At the time of this article's entry in the SuccuWiki, no review was available.
External Links