Thank you for over 12.9 million views of the SuccuWiki!
Succubus: A Novel of Erotic Possession
From SuccuWiki - The Wiki of the Succubi

For other uses of the word Succubus, see Succubus (disambiguation).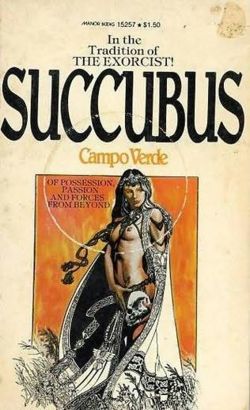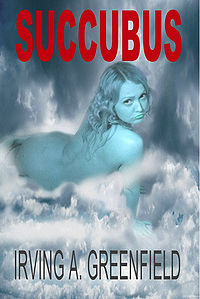 Succubus: A Novel of Erotic Possession, is a novel written bv Irving A. Greenfield under the pseudonym of Campo Verde. In this work, a Succubus possesses one of the main characters. In December 2012, the work was reissued as an eBook on Amazon.com.
Details
Title: Succubus: A Novel of Erotic Possession
Author: Irving A. Greenfield
Publisher: Dell Books Reissue: Polus Books
Format: Paperback Reissued in eBook format 2012
ASIN: B000LETG64
Reissue ASIN: B00AL1MFXS
Release date: 1970 Reissued: December 7, 2012
Note: This book was originally published under the name Campo Verde, the pseudonym of Irving A. Greenfield, by Manor books in 1970. This novel was reprinted under Greenfield's own name shortly after.
Synopsis
A man is horrified to discover his wife is possessed by a demonic succubus, that she preys on men, killing them horribly after having sexual relations.  His only hope to save her is to find a way to expel the creature.
2012 Reissue Synopsis: In the storied world of the ancients, the sex-mad seductive woman-beast called succubus is a wicked and dangerous thing. When an ambitious archeologist discovers that his wife leads a double life haunting dreams and cavorting with strangers, he wants the sex and wants it all. But her powers are still growing.
About Irving A Greenfield
Irving Greenfield was born in Brooklyn, New York. He was a youthful runaway, a merchant seaman, and a soldier during the Korean War, afer which his writing talent burst into print. His novel, The Ancient of Days, was a best-seller for six weeks and Tagget was made into a film for TV.
Book Review
At the time of this article's entry in the SuccuWiki, no review was available. Tera has purchased this work and will review it as soon as possible.
External Links