Thank you for over 12.9 million views of the SuccuWiki!
Succubus, Interrupted
From SuccuWiki - The Wiki of the Succubi

For other uses of the word Succubus, see Succubus (disambiguation).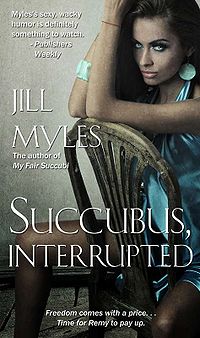 Succubus, Interrupted is an eBook written by Jill Myles and is part of the Succubus Diaries book series. The events in this story take place after the earlier work My Fair Succubi and follow the character Remy as she comes to the end of her time of freedom. The work is not a stand alone tale and reading of the other works in the series is recommended.
Book Details
Title: Succubus, Interrupted
Author: Jill Myles
Format: eBook / Novella
Pages: 12,000 Words
Publisher: www.jillmyles.com
Language: English
ASIN: B006AAQQU2
Release Date: November 19, 2011
Other novels by Jill Myles on SuccuWiki
Book Synopsis
Remy's a carefree, easygoing immortal...with a secret. She made a deal with her masters - in exchange for a hundred years of freedom, she'd give them a hundred years of servitude. Pretty sweet deal...until it's time to pay up.
Now, she's about to become enslaved again, and it's up to Jackie to step in and save the day. But will Zane help her? Or will he be happier without Remy at Jackie's side?
Book Review
At the time of this article's entry in the SuccuWiki, no review was available. Tera has purchased this work and will review it as soon as possible.
External Links