Stu Boling and the Lap Dance of Death (eBook)
From SuccuWiki - The Wiki of the Succubi
Stu Boling
and the Lap Dance of Death



Stu Boling and the Lap Dance of Death Revised eBook Cover, written by Nic Brown

Author(s)
Nic Brown
Series
Stu Boling Adventures
Publisher
Werewolf For Hire Press
Publication date
April 26, 2013
Media type
eBook
Length
41 Pages
ISBN
9781370835614
ASIN
B00CJY2FUS
For other uses of the word Succubus, see Succubus (disambiguation).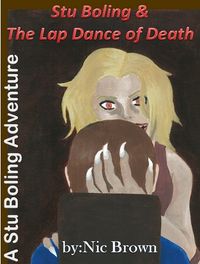 Stu Boling and the Lap Dance of Death is an eBook written by Nic Brown. It is the first work in the Stu Boling Adventures series by this author. In this work the character Starr is a Succubus.
Overview
Title: Stu Boling and the Lap Dance of Death
Author: Nic Brown
Published By: Werewolf For Hire Press
Length: 41 Pages
Format: eBook
ASIN: B00CJY2FUS
ISBN: 9781370835614
Publishing Date: April 26, 2013
Plot Summary
Stu Boling is just a normal guy who wanted to grow up to be a policeman. That didn't happen.
Instead he met an evil leprechaun that stuffed his head full of knowledge he shouldn't have… knowledge of the world hidden within ours… the world of the supernatural.
Stu is just about at the end of his rope, unemployed and shy of prospects he's hit a new low. But when a stranger comes knocking on his door things change. Soon Stu finds himself facing death in a most unlikely place- a strip club!
Stu is going to need more than a handful of dollar bills to get out of this one alive because at the Faster Pussycat strip joint the drinks are expensive, but a lap dance could cost you your life!
Book Review
At the time of this article's entry in the SuccuWiki, no review was available. Tera has this work on her reading list and will review it shortly.
External Links