Thank you for over 5.1 million views of the SuccuWiki!
Steelwolf The Akashic Warrior (Novel)
From SuccuWiki - The Wiki of the Succubi

For other uses of the word Succubus, see Succubus (disambiguation).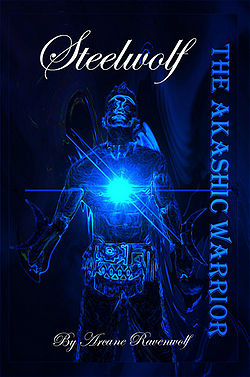 Steelwolf The Akashic Warrior is an eBook written by Arcane Ravenwolf. Within this work, a character appears named Succubus that has aspects of the classical Succubus in her actions and powers.
Overview
Title: Steelwolf The Akashic Warrior
Author: Arcane Ravenwolf
Published By: Amazon and Smashwords
Format: eBook & Paperback
Genre(s): Paranormal, Horror
Length: 230 Pages
ISBN-10: 0982639945
ISBN-13: 978-0982639948
Publishing Date: January 28, 2010
Plot Summary
This story is like no other story you've ever heard. It teeters on the thin line between chaos and reason, between the human condition and all its emotional turmoil and conscious awakening. The story of Steelwolf intertwines the Native American spirit with the ideals and strategies of the Eastern-Asian culture, directly injecting a new style of hero that evolves before your eyes as he searches for his true identity and his purpose in life.
Filled with pain and emotional solitude Steelwolf must once again find a reason to embrace his human side and find that compassion he had lost so long ago. Nothing is impossible and the only thing that is real is his desire to make true his promise to the mother that he had lost so many moons ago. Prepare yourself, for once you have read this book you too will no longer be the same. Once you realize the truth of the human condition you will no longer be able to accept the lie that you once believed.
Book Review
At the time of this article's entry in the SuccuWiki, no review was available. Tera has this work on her reading list and will add a review as soon as possible.
External Links