Thank you for over 9.1 million views of the SuccuWiki!
Steam Heat
From SuccuWiki - The Wiki of the Succubi

For other uses of the word Succubus, see Succubus (disambiguation).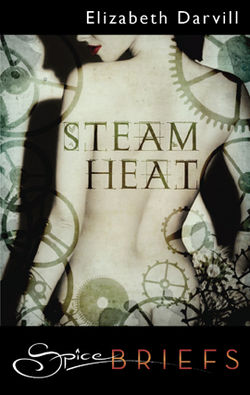 Steam Heat, is a novel written by Elizabeth Darvill. It is part of a steampunk romance/erotica series published by Harlequin books called Lust in a Time of Steam. In this work, the heroine of the story, Angel, is a half-succubus.
Details
Title: Steam Heat
Author: Elizabeth Darvill
Format: eBook
Publisher: Spice Briefs
Pages: 123
Language: English
eISBN: 9781426878954
ASIN: B005HRPYSY
Release Date: October 1, 2011
Synopsis
In a world of speed steamers, poisoned air and soulless paranormal beings, two people hold the fate of millions in their hands—and their bodies….
As a half-succubus, Angel needs energy from sex to live. The temporary fulfillment she gets from strangers is nothing compared to the erotic encounters in her linked dreams with Ian, the man whose soul she shares. Lately the dreams have become more intense and intoxicating, which can mean only one thing: she and Ian are dying, just like the magical crystal that purifies the city's air. Only by making love in person and joining their split soul can they heal both themselves and the crystal.
Yet despite Ian's amazing sexual prowess, Angel doesn't want to give up her other lovers, like sassy steam engineer Jezebel. Can they resolve their differences and continue sharing a bed to save themselves—and the world?
Book Review
At the time of this article's entry in the SuccuWiki, there was no book review available. Tera has purchased this work and will be adding a review as soon as possible.
External Links