Spirited (eBook)
From SuccuWiki - The Wiki of the Succubi
Spirited

Spirited Original eBook Cover,
written by Naomi Stone
Author(s)
Naomi Stone
Publisher
Champagne Books (Original)
Wild Culture Press (Reissue)
Publication date
March 31, 2013 (Original)
February 8, 2017 (Reissue)
November 9, 2017 (Reissue)
Media type
eBook
Length
248 Pages (Original)
296 Pages (Reissue)
363 Pages (Reissue)
ISBN
978-177155022-2 (Original)
ASIN
B00C4X2QM6 (Original)
B01MV75O0T (Reissue)
B0779WVRGK (Reissue)
For other uses of the word Succubus, see Succubus (disambiguation).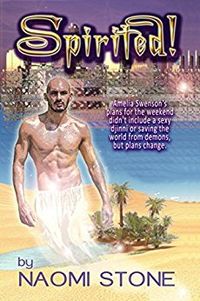 Spirited is an eBook written by Naomi Stone. In this work Succubi appear as minor characters, the character Lily being central to the story and a Succubus, but referred to as a Lilit.
Overview
Title: Spirited
Author: Naomi Stone
Published By: Champagne Books (Original), Wild Culture Press (Reissue)
Length: 248 Pages (Original), 296 Pages (Reissue), 363 Pages (Reissue)
Format: eBook
ASIN: B00C4X2QM6 (Original), B01MV75O0T (Reissue), B0779WVRGK(Reissue)
IBSN: 978-177155022-2 (Original)
Publishing Date: March 31, 2013 (Original), February 8, 2017 (Reissue), November 9, 2017 (Reissue)
Plot Summary
Amelia Swenson's plans for the weekend didn't include a sexy djinni or saving the world from demons. Her whole life changes when Amelia discovers the ring to which the handsome djinni is enslaved, and at the same time accidentally unleashes a demon into the world. The djinni, Al-Marid has been alone for three thousand years—is it any wonder he falls for the woman who frees him? But Amelia's not prepared for love, magic, or the evil creatures that threaten her friends and her world. Now she must face all of these, with the help of her djinni, in an adventure that takes her to the ancient past, challenges her to open her heart again and reveals the world to be more miraculous than she had ever imagined.
Book Review
At the time of this article's entry in the SuccuWiki, no review was available. Tera has this work on her reading list and will review it shortly.
External Links