Son of a Succubus (eBook II)
From SuccuWiki - The Wiki of the Succubi
Son of a Succubus

Son of a Succubus Revised eBook Cover,
written by The Wolf
Author(s)
The Wolf
Series
Family Succubus
Publisher
Smashwords
Publication date
October 10, 2014
Media type
eBook
Length
18 Pages
ISBN
9781311036407
Followed by
My Sister the Succubus
For other uses of the word Succubus, see Succubus (disambiguation).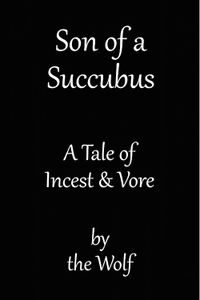 Son of a Succubus is an eBook written by The Wolf. It is the first work in the Family Succubus series by this author. In this work one of the characters is a Succubus.
Overview
Title: Son of a Succubus
Author: The Wolf
Published By: Smashwords
Length: 18 Pages
Format: eBook
IBSN: 9781311036407
Publishing Date: October 10, 2014
Other Works in this Series on SuccuWiki
Plot Summary
When you're a senior and your mother is a succubus, there are all kinds of advantages and pitfalls. Advantages like all the sex. Pitfalls like knowing she might actually eat you alive if your grades slip too far. Colin's been living with this for a while, and already has one F under his belt. He's witnessed what happens to a son that doesn't toe the line in that last year and knows he's likely one screw-up away from being his mom's dinner. Still, there's something enticing about the power she has when she eats that Colin can't quite explain.
Book Review
At the time of this article's entry in the SuccuWiki, no review was available. Tera has this work on her reading list and will review it shortly.
External Links