Thank you for over 5.1 million views of the SuccuWiki!
Sleepy Hollow Dreams (eBook)
From SuccuWiki - The Wiki of the Succubi

For other uses of the word Succubus, see Succubus (disambiguation).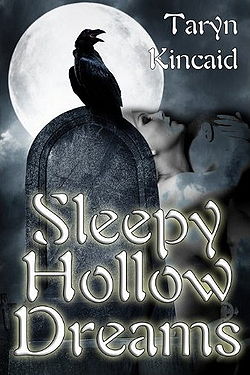 Sleepy Hollow Dreams is an eBook written by Taryn Kincaid. In this work a Succubus character named Vivienne appears, who has cursed the main male character of the story, Ryck Van Winkle, to lead a life in which he cannot exist in the physical world, but only in the dreams of others.
Overview
Title: Sleepy Hollow Dreams
Author: Taryn Kincaid
Cover Art: Angela Anderson
Published By: The Wild Rose Press; First Scarlet Rose Edition edition
Length: 110 Pages
Format: eBook
ASIN: B0046REJOQ
Publishing Date: October 8, 2010
Plot Summary
Is he the man of her dreams…or her worst nightmare?
All Katy Lyndhurst wants is a normal suburban Sleepy Hollow life, despite the strange things that keep happening to her. Blistering hot erotic dreams bleed into her waking hours, making her yearn for her dream lover to materialize. When her sexy dream voyager, Ryck, shows up in the flesh and ignites her steamiest passions, she wonders if he's a sultry fantasy conjured by her fevered brain…or something much more dangerous?
Centuries ago, a wicked succubus cursed Ryck Van Winkle to fulfill the desires of sleeping women while unable to take pleasure himself. Only Katy possesses the power to break the spell and awaken him. But Ryck's defiance sparks the demon's fury, causing supernatural portals to crumble and allowing demonic minions to threaten Katy and her world.
Now Katy and Ryck must battle the forces of darkness together. But will Ryck will be trapped forever in her Sleepy Hollow Dreams?
Book Review
At the time of this article's entry in the SuccuWiki, no review was available. Tera has purchased a copy of this work and will review it shortly.
External Links