Thank you for over 9.1 million views of the SuccuWiki!
Sins of the Flesh
From SuccuWiki - The Wiki of the Succubi

For other uses of the word Succubus, see Succubus (disambiguation).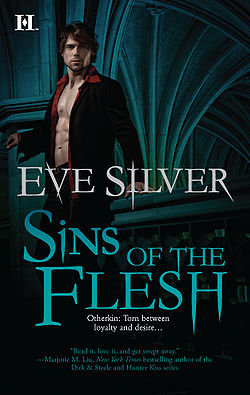 Sins of the Flesh, is a novel written by Eve Silver. It is the third book in the Otherkin book series by this author. She has released other novels with Succubi in them, which can be found on SuccuWiki elsewhere. In this series of stories, Succubi are referred to or appear as minor characters.
Details
Title: Sins of the Flesh
Author: Eve Silver
Format: Paperback
Length: 384 Pages
Publisher: HQN Books
Language: English
ISBN-10: 0373774842
ISBN-13: 978-0373774845
Release Date: October 1, 2010
Otherkin series works on SuccuWiki
Synopsis
The blood of the Underworld lord of evil runs through soul reaper Malthus Krayl's veins. Raised to fight for survival and to kill for victory, he can destroy anyone who poses a threat. As he searches for the one responsible for his brother's murder, he refuses to succumb to any distraction…until his sworn enemy crosses his path and tempts him beyond all reason.
Calliope Kane, a Daughter of Aset, has a personal hatred for soul reapers. Their savage attack against her family still haunts her. But only Malthus can help her find the traitors of her kind, and only she can help him hunt the source of betrayal amongst the reapers. As they unite, the danger grows closer…and the passion between them ignites.
Book Review
The following book review is from the Amazon.com link in the External Links below:
3 out of 5 stars
Not my favorite of the series but I still liked it
Reviewed On: September 28, 2010
Reviewed By: Stephanie G

Malthus Krayl is a soul reaper and one of the sons of the Underworld god of chaos Sutekh. He lives each moment to the fullest and nothing means more to him than his brothers. After the murder of his youngest brother, he goes in search for information to find those responsible and make them pay. Before Mal could get anything out of the man he knows has information, he is taken from Mal by a tempting beauty he should not crave.
Calliope Kane is a Daughter of Aset and has a deep hatred for soul reapers because of an attack that left her family dead. She knows what Malthus is and should hate him just for existing but there is a desire building in her that won't be pushed aside. Both sides have traitors in their ranks and they will need each other to find out who.
Malthus is the bad boy out of this brothers. He steals, sleeps with women capable of setting him on fire and has a mouth on him worthy of his pirate nature. He also loves his family and will do whatever is necessary to find his brother's killers. I fell in love with him right away. I think he deserved better than Calliope. He fell for her instantly, put himself in harms way to protect her and even went into enemy territory to save her. I respect that she is a strong no non sense kind of woman but she very cold. She doesn't just turn Mal down flat but she physically hurts him over and over again and has little to no emotional response towards him. She hints at there being some feelings but I didn't buy it and when she said the big L word to him I rolled my eyes. There was good sexual chemistry between them but the only believable emotions came from Mal.
Sins of the Flesh continues the story from the previous 2 books. Lokan, the youngest son of Sutekh, is brutally killed and his brothers are trying to not only find his killers but find his remains and soul so they can bring him back. But they aren't the only ones looking. Other Underworld deities are for some reason looking for the same thing. The Daughters of Aset want to prevent the reapers from accomplishing this because they fear it will start an all out war that will cost many human lives. Sutekh calls for a meeting with the other Underworld gods and that's when things really got interesting. The ending felt rushed but still had a shocker that was an unexpected twist.
While I liked Sins of the Flesh I'd have to say it is my least favorite of the series. I could not warm up to Calliope no matter how much I tried to think of things from her point on view. Her relationship with Mal was the main focus in the book and it over shadowed everything else. I liked all the mythology in the series and the search for Lokan's remains and killer but there wasn't enough of either in this book. The big who did it question is answered but the last few sentences in the book pretty much has me ready to buy the next book. The Krayl males make this series and will be the reason why I continue.
External Links