Thank you for over 5.1 million views of the SuccuWiki!
Silent Night, Haunted Night
From SuccuWiki - The Wiki of the Succubi

For other uses of the word Succubus, see Succubus (disambiguation).

Silent Night, Haunted Night is an novel written by Terri Garey. It is the fourth book in the Nicki Styx series of works by this author. In this book, a trio of Succubi-like beings are central characters in the story.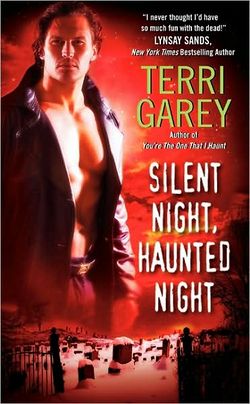 Overview
Title: Silent Night, Haunted Night
Author: Terri Garey
Published By: Avon Books
Format: Paperback
Pages: 352
ISBN-10: 0061582042
ISBN-13: 978-0061582042
Publishing Date: October 27, 2009
Plot Summary
All I haunt for christmas is you...
Joe Bascombe is no stranger to desire, but when a sexy spirit begins haunting his dreams, he finds himself ensnared by dark passions. What he doesn't realize is that the devious demon and her two sisters, otherwise known as the Three Fates, are out to teach the woman he loves a lesson.
Unwilling psychic Nicki Styx survived a near-death experience to find herself able to see and hear the dead, but she only has eyes for Joe. Together they've conquered evil spirits, saved lost souls, and beaten back the Devil himself, but they're about to learn that there are more things in Heaven and Hell than they ever imagined. As far as Nicki is concerned, Joe is the man of her dreams, but now they're at the mercy of the creature who's invaded his.It'll be a Christmas to remember... and it could be Joe and Nicki's last.
Book Review
The following review is from the Amazon.com book listing in the External Links below:
4 out of 5 stars
Will there be a Christmas miracle?
Reviewed On: November 5, 2009
Reviewed By: S. McCullough

In the previous three books int he Nicki Styx series by Terri Garey, I have gotten pretty attached to her characters. What I love? Nicki, her crazy tranny granny, Handbags & Gladrags, her gay BFF Evan and his love Butch...and especially the ghosts.
The ghosts Nicki runs into are the brightest stars of this series. The basic plot: Nicki almost died and is saved by Dr Joe Bascombe. She saw the light and how beautiful it was but it wasn't her time to go. Now she can see ghosts. She learns some of their back stories and tries to get them to go into the light. Oh, and now she dates doctor hottie.
Incidentally, Dr Joe isn't one of this series many pluses. I find him dry and boring. Nicki is spirited, strong and kindhearted. She is slightly weird. She deserves a fun and quirky guy who can keep up with her. The relationship between Nicki and her best friend Evan feels more emotional to me.
In "Silent Night, Haunted Night", Nicki's world is thrown for a loop when three spirits, the three Fates, show up in a dream. The next day they show up in her waking life. The hot one, Selene is after Joe and she is creating havoc between Nicki and Joe. I really like how Garey writes a fun and exciting story while keeping her vision on the 'light' and the 'dark' respectful and hopeful. One of the ghosts in this story committed suicide and Garey handled the subject well. I may have even teared up a time or two.
"Silent Night, Haunted Night" is a satisfying story although it is really short. I am also anxious to hear if there are more Nicki books in the future because the ending felt like it really wrapped everything up that we have seen presented in the previous books. I did read that Ms Garey has a new series forthcoming featuring Sammy, the devil, whom we met in other Nicki Styx books.
External Links