Thank you for over 9.3 million views of the SuccuWiki!
She Devil Latex Outfit (Beautiful Dirty Rich)
From SuccuWiki - The Wiki of the Succubi

For other uses of the word Succubus, see Succubus (disambiguation).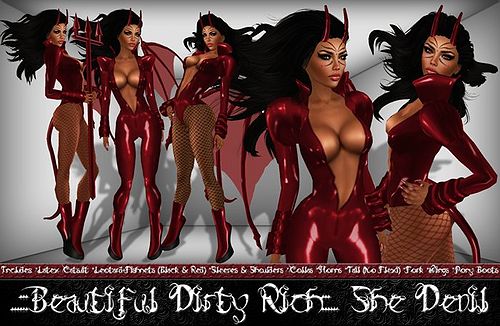 Beautiful Dirty Rich is a Second Life skins and avatar store owned by Cameron Vasiliov. You can purchase various outfits, shoes, boots and other items to add to the avatar you use in the Second Life universe. They have created many different fantasy skins and costumes for Second Life. This one is called the She Devil Latex Outfit.
She Devil Latex Outfit
Latex Catsuit and Leotard. You can wear the lower part of the leotard with or without the fishnets (Black or Red)
Sleeves & Shoulder Pad in 2 Styles -Resizer-
Collar (For Chest and Spine9) Resizer-
Wings, Horns, Fork & Devil Tail (NO FLEXI)
Latex Pony Boots -Resizer- Includes Alpha Layer for Viewer 2 and Alpha Prim for older viewers
Styling Card (No Modify-No Transfer)
High Quality Textures
Complete Outfit
Pony Boots With Resize System And Alpha Layer
External Links