My Sweet Succubus (eNovel)
From SuccuWiki - The Wiki of the Succubi
My Sweet Succubus

My Sweet Succubus eBook Cover,
written by Delilah Devlin
Author(s)
Delilah Devlin
Publisher
Ellora's Cave Publishing
Publication date
March 23, 2012
Media type
eBook
Length
50 Pages
ISBN
9781419940019
ASIN
B007NWNNH0
Followed by
Sweet Succubus
For other uses of the word Succubus, see Succubus (disambiguation).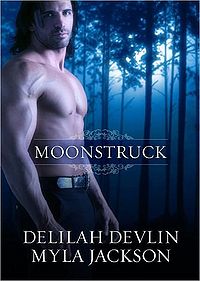 My Sweet Succubus is an eBook written by Delilah Devlin. This work was previously self-published by this author as She's All That in the anthology work Moonstruck. In this work, the character Melanie Bradshaw discovers that she is a Succubus.
Overview
Title: My Sweet Succubus
Author: Delilah Devlin
Published By: Ellora's Cave Publishing
Length: 50 Pages
Format: eBook
ASIN: B007NWNNH0
IBSN: 9781419940019
Publishing Date: March 23, 2012
Plot Summary
Melanie Bradshaw is driven to horny desperation by her torrid dreams. When she finally acts on her desires, things go horribly wrong and she witnesses the murder of an overly amorous lounge lizard—whose body disintegrates before her eyes.
Detective Moses Brown isn't thrilled to get another "full-moon case"…until he meets the delectable Melanie, who took a walk on the wild side straight into vampire territory. Moses doesn't know why vamps are interested in her, but until he can find out, he's going to stick to her like glue, doing his best to ignore their instant attraction.
But pretty little Melanie has designs on his body. Her hunger for sex is voracious, even downright insatiable. How's a brother to resist?
Book Review
At the time of this article's entry in the SuccuWiki, no review was available. Tera has purchased this work and will review it as soon as possible.
External Links