Thank you for over 5.1 million views of the SuccuWiki!
Seven Deadly Sins
From SuccuWiki - The Wiki of the Succubi

For other uses of the word Succubus, see Succubus (disambiguation).
Seven Deadly Sins is a 1999 adult movie staring Azlea Antistia and directed by Robyn Dyer. It was produced by Vivid motion pictures. It features a scene involving a succubus seducing a man, their subsquent love making, and her taking him to hell.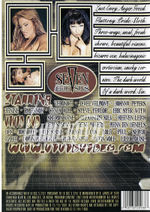 Overview
Movie Title: Seven Deadly Sins
Release Date: 1999
MPAA Rating: XXX - Sexual Content and Language
Director: Robyn Dyer
Studio: Vivid
Genre: Erotica, Feature
Plot Tagline: "Lust was at the top of the list."
Cast
Actor / Actress
Janine Lindemulder
Julia Ann
Candy Hill
Ian Daniels
Kyle Stone
Azlea Antistia
James Bonn
Frank Towers
Alexandra Silk
Shelbee Myne
Heaven Leigh
Sharon Kane
John Lee
Veronica Stark
Jewel Valmont
John Peters
Regan Starr
Devin Wolf
Lola
Dee
Michael J. Cox
Plot Summary
Lust. Envy. Anger. Greed. Gluttony. Pride. Sloth. Three-ways, anal, freak shows, beautiful vixens, bizarre sex, hallucinogenic eroticism, smoky corners. The dark world. Of a dark word. Sin.
Movie Review
At the time of this article's entry in the SuccuWiki, no review was available.
The Succubus Scene
The Scene Begins at 39:26 Minutes into the movie. It starts with the man coming home to find his wife in bed with another man. He walks in on them and is berated by his wife. He flees in embarasement to a prostitute (the succubus) who lives in a limboish sort of place. The succubus takes the form of his wife and seduces him. They proceed to have sexual intercourse. When he finshes, he realizes her trick, but it is too late. He looks around and sees the many other souls she has seduced.
External Links