Thank you for over 5.1 million views of the SuccuWiki!
Salacious Succubus (Slave Driven Designs)
From SuccuWiki - The Wiki of the Succubi

For other uses of the word Succubus, see Succubus (disambiguation).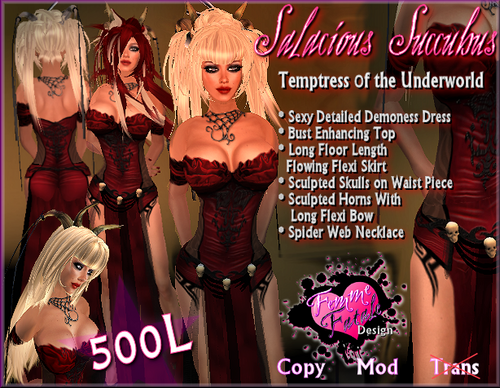 Slave Driven Designs is a Second Life skins designer. You can purchase various outfits, shoes, boots and other items to add to the avatar you use in the Second Life universe. They have created a skin called Salacious Succubus.
Description
Floor length flowing yet revealing Flexi Dress, cut high on the thigh for a sexy look. Sculpted quad horns with black flexi ribbons tied to the ends in the back. Sculpted Skulls on the waist piece, tribal accents, and web necklace give this dress a dead sexy wicked feel.
External Links