Thank you for over 5.1 million views of the SuccuWiki!
Roxy Wasserman
From SuccuWiki - The Wiki of the Succubi

For other uses of the word Succubus, see Succubus (disambiguation).
Roxy Wasserman is a fictional character in the TV series The Middleman. She is a Succubus and is the owner of a halfway house for reformed Succubi and Incubi called Famouse Fashion House. She is played by the actress Elaine Hendrix.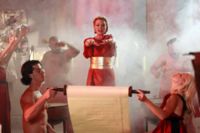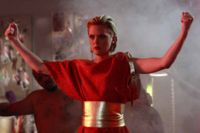 Physical Description
Short blonde hair
No visible horns or tail
What we know about Roxy so far
Roxy is the owner of a fashion house called the Famouse Fashion House.
Her relationship to The Middleman is as a consultant to him in matters of magic.
She calls The Middleman MM, and he calls her Roxy.
It appears that within her office, Roxy has several ancient books dealing with magic and possibly a Book of Evil.
The house itself is a halfway house to support these creatures in their attempts to go straight as it were.
In her second appearance, Roxy and The Middleman came to blows with Roxy taking a punch to the side of her face that barely fazed her. In return she gave The Middleman a pretty good right hook.
Appearances on The Middleman
Roxy first appeared in Episode 2 of the series, The Accidental Occidental Conception on June 23rd, 2008 on ABC Family Channel.
Her second appearance was in Episode 7 of the series, The Cursed Tuba Contingency on July 28th, 2008 on ABC Family Channel.
Fanfics about Roxy on the Internet
The fanfic, A Session With The Succubus by the author Brista has Roxy and Wendy meeting in Roxy's office and talking about the Middleman, being a reformed Succubus and what it's like to devour a soul.
Further on the Series
The series ran for only one season in the summer of 2008. ABC Family canceled the series in early 2009, but has indicated that there will be a DVD release of the series in the summer of 2009.