Thank you for over 5.1 million views of the SuccuWiki!
Rosemary Entwined (eBook)
From SuccuWiki - The Wiki of the Succubi

For other uses of the word Succubus, see Succubus (disambiguation).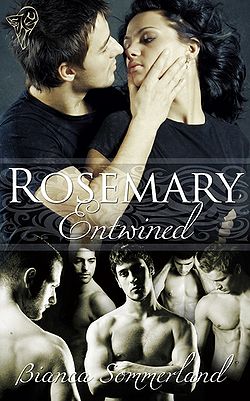 Rosemary Entwined, is a novel written by Bianca Sommerland. In this work, the main character, Rosemary, is a cambion, her demon-half being that of a succubus. She shows many of the powers and abilities of a succubus as well.
Details
Title: Rosemary Entwined
Author: Bianca Sommerland
Format: eBook & Paperback Formats
Publisher: Total-E-Bound Publishing
Length: 236 Pages
Language: English
ASIN: B004UN4FYA
ISBN-10: 0857154095
ISBN-13: 978-0857154095
Release Date: February 24, 2011
Other Works in this series on SuccuWiki
Synopsis
One kiss might save her, but if Rosemary has to lose even one of her men, she doesn't want a prince.
The only role of Rosemary's nest of men is to feed her insatiable hunger for lust, but that's not what she wants for them. Or what they want from her. While Rosemary presses for them to live their own lives, they each find ways to steal into her heart. With the threat of her mother's nest hanging over them, Rosemary decides to surrender to the love they offer and focus on building their combined strength to stand against the inevitable attacks.
When her control over her powers slips, another problem arises. The nest is incomplete. A prince must be chosen, and if he is not among her men, she'll be forced to let one of them go.
She once feared her heart wasn't big enough to hold them all. Now she fears she's not strong enough to release even one. Even if it costs her her life.
Book Review
No reviews were available at the time of this article's creation in SuccuWiki. Tera will be reviewing it in the near future.
External Links