Thank you for over 9.3 million views of the SuccuWiki!
Return to Me
From SuccuWiki - The Wiki of the Succubi

For other uses of the word Succubus, see Succubus (disambiguation).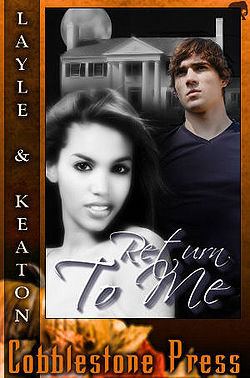 Return To Me, is a novel written by Madison Layle and Anna Leigh Keaton. In this novel one of the main characters, named Dominique, is a Succubus.
Details
Title: Return To Me
Author: Madison Layle & Anna Leigh Keaton
Cover Artist: Sable Grey
Format: eNovel
Publisher: Cobblestone Press, LLC
Length: Novella
Language: English
ISBN-13: 978-1-60088-058-2
Release Date: March 20, 2008
Synopsis
A woman of mixed race born into slavery found love in the arms of her owner's son. Separated by his death and her murder, she's cursed to live a ghostly life on the land she once longed to flee.
Dr. Travis Moreland—internationally renowned expert on paranormal phenomena and a spiritual medium—helps spirits cross over to find peace, but he's never met a succubus. Hearing of homeowners desperate to rid themselves of one such specter, his curiosity is peaked.
After he meets Dominique, however, he questions his sanity and longs to respond to the siren's call... Return To Me
Book Review
At the time of this book's entry in the SuccuWiki, no review was available. However, Tera has this book on her reading list and will review it shortly.
External Links