Thank you for over 9.3 million views of the SuccuWiki!
Red Succubus Skin (Evil Designs)
From SuccuWiki - The Wiki of the Succubi

For other uses of the word Succubus, see Succubus (disambiguation).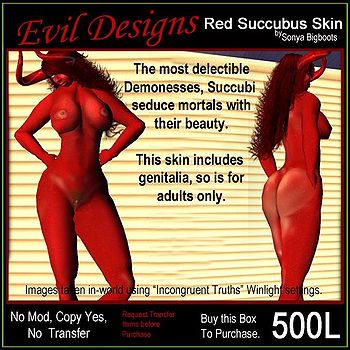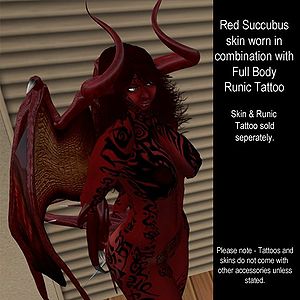 Sonya Bigboots of Evil Designs is a Second Life skins designer. You can purchase various outfits, shoes, boots and other items to add to the avatar you use in the Second Life universe. These are a series of two Red Succubus Skins available for purchase. one with a tattoo and one without.
Red Succubus Skin
Sexy Red demoness skin
Adults only as depicts genitalia
The skin can be copied, but not modified or transfered.
Tattoo is available as a separate item or can be bought as part of a bundle. Tattoo and Skin designed to work together.
External Links