Thank you for over 5.1 million views of the SuccuWiki!
Red Sonja Unconquered
From SuccuWiki - The Wiki of the Succubi
For other uses of the word Succubus, see Succubus (disambiguation).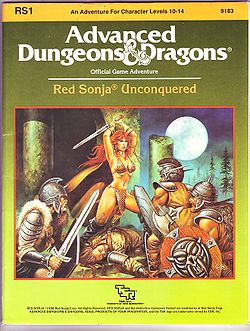 Red Sonja Unconquered (ISBN 0-88038-324-0) is a 1986 adventure module for the Dungeons & Dragons roleplaying game based on the barbarian heroine, Red Sonja. Its module code is RS1 and its TSR product code is TSR 9183. Like the similar barbarian-hero inspired Conan modules (Conan Unchained! and Conan Against Darkness!), this module was not very popular. In this module, players will encounter a Succubus in their travels.
Credits
Author: Anne Gray McCready
Editor: Tim Kilpin
Cover & interior art: Clyde Caldwell
Cartography: Dennis Kauth
Typography: Betty Elmore
Module Data
Publisher: TSR, Inc.
Game Line: Conan
Game System: Advanced Dungeons & Dragons
Product Code: TSR 9183
ISBN: 0-88038-324-0
Number of Pages: 32
Publishing Date: 1986
Succubi Appearing in this Module
In this module there is a section of the adventure called Journey of Fear. In the evenings when the adventuring party is resting, a Succubus will visit the male members of the party taking energy from them when they sleep. She will attack the party in the evenings until she is defeated.
Stats of the Succubus in this Module
AC 0
HD 6
HP 32
MV 12 feet/ 18 feet
AL2
Damage 1-3/1-3
SA Energy Drain
SD +1 or better weapon to hit
MR 70%
AL CE
External links