Thank you for over 12.9 million views of the SuccuWiki!
Ral Partha Tanar'ri Succubus
From SuccuWiki - The Wiki of the Succubi

For other uses of the word Succubus, see Succubus (disambiguation).
Ral Partha Enterprises, Inc. of Cincinnati, Ohio produced 25mm, 30mm, 15mm, and 54mm scale miniature figures between 1975 and 2001. Their products were manufactured by spin-casting and depicted soldiers, adventurers and monsters inspired by history and fiction. The miniatures were sold at gaming conventions, in hobby shops, and by mail order for use in role playing games, wargaming, dioramas, competitive painting, and collecting.
This figurine is this company's Succubus model.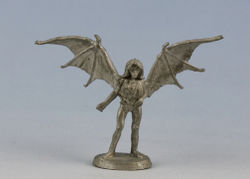 General Information
Item Number: 11-642
Figure Name: Tanar'ri Succubus
Manufacturer: Ral Partha Enterprises
Released on: 1980s
Series: Planescape Figure Series
Notes: Metal miniature, 25mm, requires assembly and painting.
Availability
Extremely rare figurine, can be found occasionally on eBay and other auction sites.