On May 4, 2016, the 3,900th article was added to the SuccuWiki!
Promise of the Succubus (eBook)
From SuccuWiki - The Wiki of the Succubi
Promise of the Succubus



Promise of the Succubus eBook Cover, written by Logan Woods

Author(s)
Logan Woods
Publisher
Steam Books
Publication date
August 14, 2012
Media type
eBook
Length
16 Pages
ASIN
B008Y1PE8A
For other uses of the word Succubus, see Succubus (disambiguation).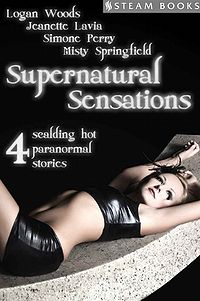 Promise of the Succubus is an eBook written by Logan Woods. The work is set in the Victorian age and one of the main characters is a Succubus. This story also appears in the anthology work Supernatural Sensations.
Overview
Title: Promise of the Succubus
Author: Logan Woods
Published By: Steam Books
Length: 16 Pages
ASIN: B008Y1PE8A
Publishing Date: August 14, 2012
Plot Summary
Andrew has no idea exactly how wild his planned night of revelry is going to be. On his way to his favorite brothel, he is waylaid by the mysterious, caped Nane…a Succubus capable of giving sheer ecstasy to the men she selects for donors when her Hunger struck. This night he will never forget!
Book Review
At the time of this article's entry in the SuccuWiki, no review was available. Tera has purchased this work and will review it shortly.
External Links