Thank you for over 9.3 million views of the SuccuWiki!
Pornucopia
From SuccuWiki - The Wiki of the Succubi

For other uses of the word Succubus, see Succubus (disambiguation).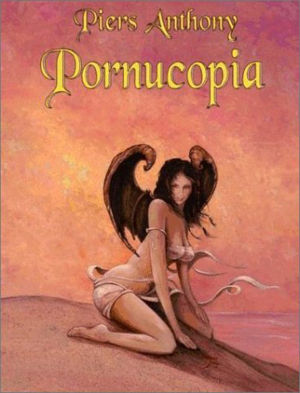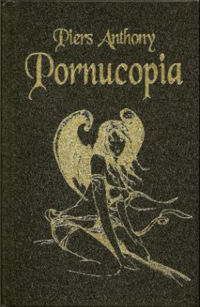 Pornucopia is a novel written by Piers Anthony.
Details
Title: Pornucopia
Author: Piers Anthony
Format: Paperback and Hardcover
Publisher: Mundania Press LLC
Pages: 178
Language: English
ISBN-10: 0972367004
ISBN-13: 978-0972367004
Release Date: December 24, 2002 (Hardcover)
Synopsis
Pornucopia is a picaresque black comedy that transgresses all bounds of everyday good taste. It begins in a near-future world where sex-vending machines and genital transplants are taken for granted.
Prior Gross, the hero and sex object of this wild adventure, thinks his fantasies have all come true when a beautiful young woman seduces him on a public beach. She turns out to be a succubus, beginning his initiation into a realm populated by demons that are not merely horned, but horny. He encounters a perverse cast of characters that includes a satyr, a vampire, and a pair of luscious sisters, one of whom tricks him out of his manhood.
So Prior Gross sets out on a perverse odyssey, taking him to a distant planet where he discovers the key to the return of his property and, ultimately, the origin of the universe itself.
Book Review
The following reviews are from the Amazon.com listing in the External Links below:
Rating: 4 of 5 stars
Summary: Be it ever so humble, there's no penis like your own
Date Reviewed: March 22, 2001
Reviewed By: Elderbear (Loma Linda, Aztlan)
I'm not certain a wilder fantasy can be had. An incubus/succubus, magical smegma, a set of detachable, interchangable penises of various sizes & functions, demons, & a woman scientist who doesn't know the meaning of the word "No" nor how a man values his own penis. This is Piers Anthony boldly rushing in where Mrs. Grundy fears to tread.
I enjoy his novels, and this one was no exception. I read it long before I had discovered Xanth, Tarot, or the Incarnations of Immortality. I don't think I had yet read the first Phaze trilogy. What an introduction! This book stood alone in it's own right--one doesn't have to be an Anthony fan to enjoy it.
I was attracted to the taboo-violating nature of the basic plot device: Evil scientist removes man's stubby little penis & gives him a wide range of accessories (with full sensate functioning) to replace it. Man goes on quest to obtain techno-magical item to exchange for his original organ. The theme of "a quest to obtain something magical so the wizard will return what is rightfully yours" is a tired old theme. Applying it to a man's =PENIS= returns it to novelty!
Once you get past the creative audacity, this reads like any other Anthony novel. The characters don't have a lot of depth (the hero seems to occupy a fractal dimension larger than two but fails to achieve a full three dimensions). Who cares? His creativity is legendary--and this book showcases it well. Lots of challenges, action & even the odd pun, all played out in a sci-fi-magico-phantasy-sexual arena.
Yes, there are some very interesting forms of coupling portrayed in this book. I would hesitate to label it erotica, and certainly =NOT= consider it pornography. It's not a one-handed read. Think of it more as a Xanth novel you'd hate to explain to a pre-pubescent! This is as violent as any quest novel, but the sexual arena for the quest makes the violence less palatable.
Three stars for characterization. Four stars for plot. Five stars for shear audacity. If you've got an open & adventurous mind, don't miss this unique book.
External Links