Thank you for over 17 million views of the SuccuWiki!
Pleasure Unbound (Demonica, Book 1)
From SuccuWiki - The Wiki of the Succubi

For other uses of the word Succubus, see Succubus (disambiguation).

Pleasure Unbound is a novel written by Larissa Ione. It is part of the Demonica Series.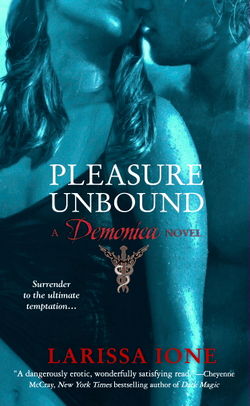 Book Details
Title: Pleasure Unbound
Author: Larissa Ione
Format: Paperback
Pages: 416
Publisher: Forever
Language: English
ISBN-10: 044640103X
ISBN-13: 978-0446401036
Release Date: June 20, 2008
Other novels by Larissa Ione on SuccuWiki
Book Synopsis
In a place where ecstasy can cost you your life . . .
She's a demon-slayer who hungers for sensual pleasure-but fears it will always be denied her. Until Tayla Mancuso lands in a hospital run by demons in disguise, and the head doctor, Eidolon, makes her body burn with unslakable desire. But to prove her ultimate loyalty to her peers, she must betray the surgeon who saved her life.
Two lovers will dare to risk all.
Eidolon cannot resist this fiery, dangerous woman who fills him with both rage and passion. Not only is she his avowed enemy, but she could very well be the hunter who has been preying upon his people. Torn between his need for the truth and his quest to find his perfect mate before a horrific transformation claims him forever, Eidolon will dare the unthinkable-and let Tayla possess him, body and soul...
Book Review
The following review is taken from the Amazon.com link in the External Links below:
5.0 out of 5 stars
The first book in the enticing new Demonica series
Reviewed On: July 3, 2008
Reviewed By: K. Hinton

Tayla Mancuso was taught to believe that all demons are evil; there is no gray area. As an Aegi, she is sworn to protect humankind from these vile creatures and to dispatch them, no matter the cost. When Tayla wakes up in a demon hospital after a fight that costs her partner her life, she immediately begins scanning exits and remembering faces so that she can take the place down at the first opportunity. She doesn't expect to feel a healthy dose of attraction to her doctor, Eidolon, and she certainly doesn't expect him to start telling her things that make her question the entire foundation on which her beliefs are based. According to Eidolon, not all demons are evil, and in fact it's the Aegi who are exhibiting these qualities. He believes that her people are responsible for the deaths of a number of demons whose organs are being harvested, while the creatures are left to die. Initially believing that everything he says is a lie--who can trust a demon anyway?--Tayla eventually begins to question her beliefs. Would an evil, depraved race of beings help their sworn enemy when she was hurt in battle? But could the Aegi, a race sworn to protect, be responsible for the grisly deaths she sees as she explores Eidolon's truth?
Eidolon is a doctor in a demon hospital who has sworn to heal and protect even the worst of his race. He is also a Seminus demon who is nearing his transition, a fact that doesn't bode well for the women around him. Seminus demons nearing the change will rut with anything in sight, long to spread their seed and impregnate every woman in their path, and will take a female by force if necessary. Eidolon fights the change on a daily basis, using his skills as a doctor to control his lust, so imagine his surprise when his passion surges to the forefront for a slayer who enters his hospital. Eidolon hates the Aegi and believes them responsible for his brother's death. There's no reason for him to feel any attraction to the little killer on his operating table, but despite that fact she makes his blood boil like no other woman has. And when he has her open on his table, he learns why--she's half-demon.
Pleasure Unbound is the first in a new Demonica series from Larissa Ione, and this book and its characters are engaging, passionate, and hard to put down. I couldn't stop myself from reading it in one sitting, and I have a sneaking urge to read it again a second time already. Tayla isn't your typical romance heroine, in that she can take care of herself and she's got the battle scars to prove it. This is a girl raised in foster homes who was taken in by a society of slayers who were the first family she knew. She was trained to kill and raised to believe that demons are evil, so imagine her surprise when she learns she might be one of them. Her entire belief system is thrown into question when she learns her heritage, not to mention when she feels this startling attraction to an incubus. And Eidolon is a man who puts family first. His brothers are a part of him, and he wants to protect them from his transition and the threats to their race as much as he wants to protect himself. Fighting his maturity is a daily battle, one that becomes even harder when Tayla enters his life. And though she fights him tooth and nail from the moment they meet, eventually he knows that he will have to break down her walls or risk both their futures.
I can't wait to read the next books in this series, and look forward to reading more of Larissa Ione's work in general. For those also jonesin for more of her stories, she also cowrites books as Sydney Croft. I'll be checking those out in the interim between now and March 2009 when the next book in this series is released.
External Links