Thank you for over 7.7 million views of the SuccuWiki!
Brachina
From SuccuWiki - The Wiki of the Succubi

For other uses of the word Succubus, see Succubus (disambiguation).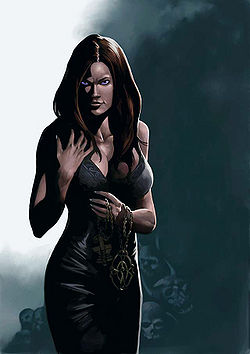 The Brachina is an insidious devil that specializes in corrupting the servants of the gods. They are the result, depending on which lore you believe, of either an extremely powerfully levelled Erinyes, or, the crossing of a Succubus and an Erinyes. This type of Devil originally appeared in the Fiendish Codex II supplement rule book. It is designed to be played in the third edition ruleset of the Dungeons and and Dragons role playing game. While it's proper name is Brachina, it is also known as a Pleasure Devil.
Description
This female figure has long, amber hair with violet pools for eyes. She is dressed in revealing garb, and a smile plays on her lips. Even as her intoxicating eyes promise countless pleasures, her swollen lips pursed to kiss, something sinister seems to lie behind her otherwise flawless facade.
A brachina, or pleasure devil, as they are more commonly known, is an insidious devil that specializes in corrupting the servants of the gods. Brachinas are specially selected Erinyes who are lifted from their station and endowed with even greater beauty and power. Charged with corrupting the virtuous, they travel to the Material Plane to work their evil, returning to the Nine Hells only when they have succeeded in their task, The punishment for failure is severe; thus, all pleasure devils work doubly hard to corrupt their victim.
When in Hell, pleasure devils, plot and connive like all the rest, grasping at the chance to rise in status to one day join the ranks of Pit Fiends. They are quick to betray others of their kind as it means moving ahead. Pit Fiends and archdevils use Brachinas as playthings, discarding them as quickly as they select them. Thus, these seducers are quick to take any assignment they can to avoid the brutal attentions of their masters.
Position in the Hells
Brachina find love in all the wrong places. They are used throughout the Ministry of Mortal Relations, Espionage and Immortal Diplomacy. Their strong personalities are ideal for bending others to their whim. Anywhere erinyes are mentioned in non-combat intensive positions, brachina can be found as well. Only brachina who are being punished could be found in the Denomination of Strategy, these few notables usually being assigned as sailors.
Belial's court boasts the highest number of non-military brachina, with Dispater a close second. Those of Phlegethos are typically used as whores and slaves, while those of Dis are canny businesswomen who wheel and deal with the best of them.
Glasya's Elite has been expanded to include brachina. Nine 36 HD brachina are members as well. Unfounded rumors abound that Glasya's exceptional mother Bensozia was of this caste.
Known Brachina
Basic Summoning Statistics
Spell casing requirement: SM IX as a LE caster (replaces fiendish dire shark)
Notes: Super-Erinyes, the Brachina is an extremely seductive devil who specializes in corrupting the virtuous and the devout. They are just as involved with the petty scheming and jockeying for position as most devils are, but they spend more time attempting to tempt mortals on the Material Plane. If you can resist their charms, they'll serve you well - just be wary of their honeyed words.
Advantages: A healthy host of beguiling SLAs, plus the option to actually Beguile a foe and make them take a round's worth of actions under your control, both wasting their turn and using it to your advantage. They have a WIS-damaging poison, which might be handy against a few foes. Plenty of scheming social skills and obscure knowledge.
Disadvantages: Pretty awful in melee. You're unlikely to get much use out of some of their SLAs - Morality Undone won't really help you unless you've got a particular grudge against an arrogant paladin, and it's still almost definitely an evil act.
Notable SLAs: Charm Monster, Vampiric Touch, Morality Undone, Polymorph, Enthrall, Suggestion, and Produce Flame at will, plus Trap the Soul 1/day.
External Links